US President George Bush announced on Wednesday that he would recommend the name of Deputy Secretary of Defense, Paul D Wolfowitz, as the next head of the World Bank.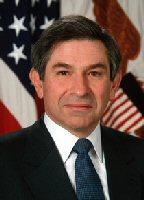 Wolfowitz will replace the 71-year old James Wolfensohn who will leave the institution when his term ends on May 31. Wolfowitz's nomination must, however, be approved by all World Bank's member countries.
The US is bank's largest member nation and the bank traditionally has had an American president. Its sister institution, the International Monetary Fund, traditionally has been headed by a European.
Popularly known as an architect of the Iraq War, 61-year old Wolfowitz, was appointed as deputy to Defense Secretary Donald Rumsfeld in 2001.
He served as undersecretary for policy for Vice President Dick Cheney when the latter headed the Pentagon during the presidentship of senior George Bush.
Between 1986 and 1989, Wolfowitz was the US ambassador to Indonesia and from 1982 to 1986 he was the assistant secretary of state for East Asian and Pacific Affairs.
Wolfowitz had also served as dean and professor of international relations at the Paul H Nitze School of Advanced International Studies of The Johns Hopkins University.
He received a Masters degree in administration and a Doctorate in political science and economics from the University of Chicago.
Other candidates for the position of World Bank chief included former Hewlett-Packard chief executive officer Carly Fiorina; US treasury department's undersecretary for international affairs John Taylor; former head of Michigan State University Peter McPherson, and Bush administration AIDS policy chief Randall Tobias.