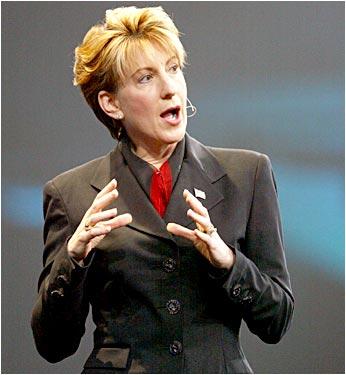 Carleton 'Carly' S Fiorina has stepped down as chairman and chief executive officer of Hewlett-Packard Company on Wednesday.
The board of directors of Hewlett-Packard announced that Robert P Wayman, H-P's chief financial officer, has been named chief executive officer on an interim basis and appointed to the board of directors.
Carly Fiorina, 51, has been named the world most powerful woman in business for the last three years by the Fortune magazine.
She led the Hewlett-Packard merger with Compaq, which was completed in May 2002. She joined H-P in July 1999. Before joining H-P, she held several senior positions at AT&T first and then at Lucent Technologies, over a span of 20 years.
She holds a master's degree in business administration from the Robert H Smith School of Business at the University of Maryland.
Patricia C Dunn, an H-P director since 1998, has been named non-executive chairman of the board, also effective immediately.
"Carly Fiorina came to H-P to revitalise and reinvigorate the company. She had a strategic vision and put in place a plan that has given H-P the capabilities to compete and win. We thank Carly for her significant leadership over the past six years as we look forward to accelerating execution of the company's strategy," said Dunn, on behalf of the board in a media release.
"While I regret the board and I have differences about how to execute H-P's strategy, I respect their decision," said Fiorina. "H-P is a great company and I wish all the people of H-P much success in the future."
The H-P board will begin a search for a new CEO immediately. Wayman, a 36-year veteran of the company, will also retain his CFO responsibilities. The company does not expect to make any additional structural changes or executive leadership changes at this time.
The company plans to report its first quarter financial results on February 16, 2005, after market close. The company expects results to be in line with consensus analyst expectations, after adjusting for the effects of the previously announced Intergraph settlement.
The company's annual shareowner meeting will be held in Chicago on March 16, 2005.
Photo: Justin Sullivan/Getty Images