Vijay Amritraj's last two Davis Cup ties for India were against Pakistan, in 1970, at Patna, and 1973, at Malaysia. Now, 33 years later, when the teams again cross swords in Mumbai, his son Prakash will wield the racquet. The Amritajs will thus become the first father and son pair to play the Davis Cup against Pakistan.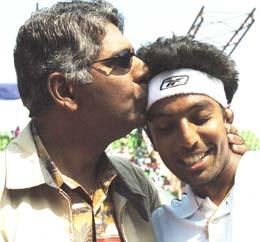 "It is quite a rare thing, isn't it? First, to represent your country in the same sport and then play the same opposition," said Prakash, on the sidelines of the Indian team's first press meet at the Brabourne stadium.
But the "special occasion" for the 22-year-old will be a tad incomplete without his father. Vijay, the leading member of tennis' ABC in the 1970s, will be on commentary duty at the Augusta golf tournament for Star Sports during the Cup tie.
"It is disappointing, but he had prior commitments," Prakash said.
Prakash, who has always had to live up to the Amritraj name, first played for India in 2003. Born and brought up in California, the United States, he had to face lot of skepticism over his selection in the Davis Cup team for India.
"I would only say the best player should play for India. I have been in the US but that does not mean I am not an Indian. I am an Indian at heart and love to play for my country."
Also read: Paes primed for Davis duty
Of the 12 rubbers he played, Prakash lost eight and the four he won have come at home.
"There is a lot of work to be done, especially in the away ties. And we are taking it match by match. Korea was a tough game again, and I only wish I was stronger for the Sweden tie last year. Hopefully, we will improve the record."
When India lost against Korea, earlier this year, it was the first time since 1999 that they had lost in a Round 1 group match, the Korea away tie being their nemesis both times.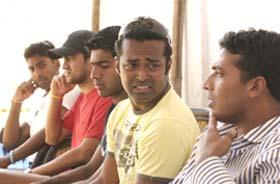 "We were a little discouraged with the result. But you can't achieve much if you keep thinking about the past. You have to let the water fall off your back."
It is after 43 years that Mumbai will host a Davis Cup tie. The lawns at cricket's Brabourne stadium have been tended and marked for tennis. Though it will be another ten days before the main court is ready, the players were happy with the surface and bounce of the practice courts.
Though Pakistan does not have an impressive Davis Cup record, they have maintained their place in Asia-Ocenia Group I since 2001. Their number one player, Aisam Qureshi, has got the better of all the Indians on tour and scored an upset win over Paradorn Srichaphan last year to help Pakistan beat Thailand 3-2.
"Aisam is a very good Davis Cup player. He's got a good game for grass and will be difficult to beat. And though Aqeel (Khan) is not as good, he can be tricky. We are definitely not underestimating them."
With India's captain Leander Paes making it clear that he will most likely play singles, Prakash and Rohan Bopanna will be in contention for the second singles spot.
Photographs: AFP/Getty Images, Jewella Miranda