Shiva Keshavan, India's best bet at the 2006 Winter Olympics, finished a modest 25th in the men's singles luge event in Turin on Sunday.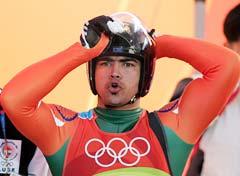 Chasing an unlikely podium finish, Keshavan took an aggregate time of 3:31.937, about 5.849 sec more than Armin Zoeggeler of Italy, who won the gold.
Albert Demtschenko of Russia took the silver and Martins Rubenis of Latvia won the bronze.
On Friday night, Keshavan had boycotted the opening ceremony of the Games after not being made the flagbearer at the function.
''The incompetence of the organising personnel that have done nothing to provide the basic services needed for athletes for the Olympic Games forced me to take the step,'' he said.
(UNI)