Garry Kasparov, arguably the greatest chess player ever, announced his retirement from competitive chess apparently peeved over his treatment by FIDE, the world chess federation.
Kasparov announced his decision in Linares on Thursday soon after winning his ninth Linares Super Grandmasters chess tournament title.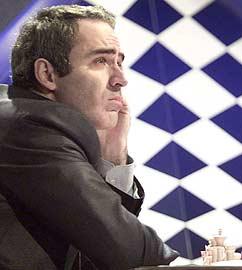 "It could come as a surprise to many of you. But before this tournament, I made a conscious decision that Linares 2005 will be my last professional tournament, and today I played my last professional game," said Kasparov, who lost his final game against Veselin Topalov of Bulgaria but still clinched the prestigious title.
"I hoped I could do better in my last game, but unfortunately the last two games were very difficult for me, to play under such pressure, because I knew it was the end of a career which I could be proud of.
"I may play some chess for fun, but it will no longer be professional competitive chess," the Russian legend told reporters.
Kasparov's decision to call it quits pulled the curtains down on a career that lasted 30 glorious years, of which at least 20 years he spent as the undisputed king of the game.
Kasparov said he wanted to quit because he felt that he no longer belonged here citing the falling apart of his unification match against Rustam Kasimdzhanov this January in Dubai.
"When that happened I knew I was no longer part of the chess world," he said.
"It is very difficult to quote one reason. But if I try could tell you that, as you know, I am a man of big goals. I have to achieve something, I have to prove something, I have to be determined. But I no longer see any real goal in the world of chess," Kasparov said.
"I did not want to leave in bad shape, as I was six months ago. I wanted to show some decent chess. I wanted to prove to myself first of all that I play better than others, which I did. What happened today had very little to do with my opponent. I simply collapsed under the pressure of playing my last game," he said.
"It seemed to me that everyone was very pleased when I was constantly denied a chance to play for the highest title. What happened with FIDE in the last year was scandalous. But I never heard a voice of concern or a voice of support for Garry Kasparov.
"I still read about the bad treatment by FIDE of [Ruslan] Ponomariov, but I never heard any serious complaints about the way they treated me.
"After the Prague agreement I had regular disappointments with the entire process. The process was used for advancing the agenda of others, eventually at my expense," said Kasparov the author of a mega book project 'My Great Predecessors' which is creating waves.
Asked about his future plans, Kasparov said, "I just want to live my own life. I recognise that in the near future there will be no chance for a unified title, and frankly there is nothing else I can hope for in the world of chess."
Rediff shopping: Learn chess with Gary Kasparov