Former champion Jacques Villeneuve could be back on the Formula One starting grid in China next week after agreeing to test with Renault.
Team boss Flavio Briatore said in a statement that the Canadian, without a drive since the end of last season, would test for the French team at Silverstone on Wednesday and Thursday.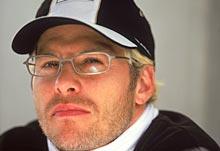 "This test might lead to Jacques joining the team for the final three races of the season beginning next week at the Chinese Grand Prix," he added.
The race in Shanghai is a first for China.
Villeneuve, the 1997 world champion in a Renault-powered Williams, has been looking to find a way back since he lost his drive at BAR.
His talks with Williams and Sauber came to nothing but he had a seat-fitting at Renault's Enstone factory on Tuesday.
Renault have fallen out with Italian Jarno Trulli, this year's Monaco Grand Prix winner who has already announced he is leaving -- almost certainly for Toyota as a team mate to Germany's Ralf Schumacher.
Trulli has failed to score any points for five races, despite sparkling early season form and starting on pole in Belgium last month. Last weekend in Italy he accused Renault of trying to undermine him to force him out early.
The French team have no vacancies for 2005 however, with Spaniard Fernando Alonso staying and Italian Giancarlo Fisichella arriving from Sauber.
DREAM CHANCE
The 33-year-old Villeneuve will jump at the chance to demonstrate his continued worth in a Formula One car and possibly catch the eye of those teams who have yet to decide their 2005 line-ups.
They could include Williams or high-flying BAR, both of his former employers locked in a tug-of-war for the services of Briton Jenson Button, while Jaguar and Sauber also have vacancies.
There would also be a delicious additional irony for Villeneuve if he could help Renault regain second place in the championship from Honda-powered BAR, the team that showed him the door in 2003.
BAR are currently three points clear of Renault.
Assuming he does well enough in the tests, Villeneuve stands to be offered the most competitive car he has driven since winning the championship.
Ferrari's Michael Schumacher, his team dominant and a seventh drivers' title already won, will lose no sleep at the prospect of Villeneuve's return but fans can look forward to closer battles between the two foes than in the recent past.