Possibly because its old name of hop, step and jump carries connotations of schoolyard games, the triple jump assumes a minor position in the track and field programme.
Still, in the past 20 years three men have stood out from a largely anonymous bunch.
During the 1980s American showman Willie Banks became something of a cult figure on the European circuit as he urged the crowds to clap in time with his runup.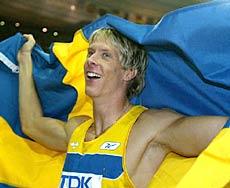 In 1995 Jonathan Edwards took the event to another realm when he skimmed 18.29 metres to win the gold medal at the Gothenburg world championships.
Watching from the stands, 15-year-old Swede Christian Olsson marvelled as the deceptively slight Briton recorded the first triple jump in excess of 60 feet.
"He was my hero," said Olsson. "I have taken so much inspiration from what he achieved."
Athletic, handsome and articulate, Olsson succeeded Edwards as world champion in Paris last year and has already earned enough from his sport to set up residence as a tax exile in Monte Carlo.
Although Edwards may have been his hero, Olsson made his initial impact as a high jumper with the triple jump as a second string to his bow.
By the age of 13 he was training with Viljo Nousiainen, who had coached former world high jump record holder Patrik Sjoberg.
"I went to Vilojo primarily for general training but it was natural for him to eventually lead me in the direction of the high jump, given my physique and Viljo's past success with Patrik," said Olsson.
BREAKTHROUGH
In 1999 he won the world junior high jump title in Riga and also picked up a silver medal in the triple jump.
After Nousiainen died suddenly in the same year, Yannick Tregaro, only two years his senior, took over as Olsson's trainer and the triple jump gradually began to take over.
Olsson took part in the triple jump at the 2000 Sydney Olympics but did not make the final which was won by Edwards.
The breakthrough to world class came in 2001. Olsson defeated Edwards in a meeting in Helsinki then jumped 17.49 at a meeting in Greece.
He recorded another victory over Edwards and finished second to the Briton at the Edmonton world championships, signalling that he was now clearly the heir apparent.
Olsson's successes made him one of Sweden's most popular athletes and he received the "Best sports achievement of the year" award at the Swedish Sports Awards gala in January 2002.
In nine competitions during 2002, Edwards just headed his young rival 5-4 but Olsson won the event which mattered most, taking gold at the European championships in Munich. Edwards finished third.
Last year Olsson won six of his eight indoor competitions and all 15 outdoors. He headed the qualifiers at the Paris world championships in August with 17.56 metres and went on to win the final with 17.72.
Edwards, 16 years Olsson's senior and increasingly troubled by injury, had already announced he would retire after the championships. After jumping 16.31 with his second attempt, Edwards called it a day, finishing in 12th and last place.
"I still think he's the ideal triple jumper," Olsson said afterwards. "I still have a little bit to go before I get there.
Olsson has ruled out an attempt on Edwards's world record for the time being. Instead he will concentrate on winning the gold medal in Athens after clinching the world indoor title in Budapest last March.
"In my opinion, Jonathan's world record is possibly the greatest there is in athletics," he said. "It is a phenomenal mark and one that may stay for many years to come."