For minutes after the 1500 metres final at the Sydney Olympics, all you could hear was the loud sobbing, tortured breath of a man who had just relived a nightmare.
Hicham El Guerrouj, who for nearly four years was virtually unbeatable, had chosen the Olympic Games to suffer defeat; a defeat many believed he would never recover from.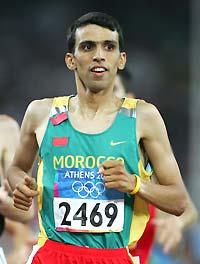 Hailed by his peers as the greatest 1,500 metres runner of all time, he had always failed to win the Olympic gold. He fell at the bell in the 1996 Olympics 1,500m final in Atlanta and finished second behind Kenya's Noah Ngeny in 2000 at Sydney.
In Athens, attempting a third shot at Olympic glory, a few weeks short of his 30th birthday, he knew it would be his last chance.
Sebastian Coe, the only man to have won the Olympic 1,500 meters title twice, called El Guerrouj "probably the best of us all". But Olympic failure really hurt the Moroccan.
"I reckon I must be one of the most unlucky athletes around as regards Sydney and Atlanta. This is my last chance to get a get a gold medal in the Olympics so I really want to do it," he said before Tuesday's final.
He held off Kenyan Bernard Lagat in a classic duel down the home stretch to win in three minutes 34.18 seconds in front of a packed stadium. His dream was realised!.
Lagat took silver in 3:34.30, with Portugal's Rui Silva grabbing bronze in 3:34.68.
The world record holder and four-times world champion had a very large void in his trophy cabinet -- that of an Olympic medal. Now he's filled it. So overjoyed was he after the triumph, that he danced for his fans as he did a victory lap.
A great champion, and an even greater competitor. We may not see his like on the world circuit again. For now, let's savour the moment.
Hicham El Guerrouj, our Olympian of the day.