Porto failed to play to their own high standards in a
goalless draw
with Deportivo Coruna on Wednesday but coach Jose Mourinho still believes his side are well placed to reach the Champions League final.
"The tie is at 50-50 exactly," Mourinho said after Porto had created only a handful of clear chances against the Spaniards in the semi-final first leg.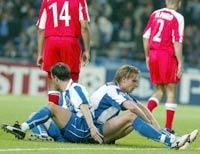 "Deportivo might believe that they have a slight edge with the home leg to come but we have a good chance."
"It's just one more game of football to come. Why shouldn't we win it or get a 1-1 or 2-2 draw? I'm confident that it's possible."
Mourinho was unhappy with German referee Markus Merk and disappointed with what he saw as a negative approach from Depor but said he did not want to make excuses for his side.
"My players didn't perform to their own standards," said Mourinho, whose Porto team won the UEFA Cup last season and are poised for a successful defence of the league title.
"Maybe it was the pressure of playing at home and having to win."
The winners of the semi-final will go on to face either Chelsea or Monaco in the final in Gelsenkirchen, Germany on May 26. Monaco are favourites to provide the opposition after beating the English side 3-1 in the home leg on Tuesday.
Deportivo coach Javier Irureta agreed the tie was evenly poised and said his team would have to be careful in the return.
"The tie is exactly even ... (but) this was a dangerous result for us," Irureta said. "We'll have to be careful not to concede a goal that will count double for Porto."
"We came with the intention of scoring and the first half was open but Porto were better than us in the second half when we gave up too much ground."