'The challenge is to put in place a strategy for future courses of action beyond April 14 when the lockdown comes to an end,' notes Brigadier Narender Kumar (retd).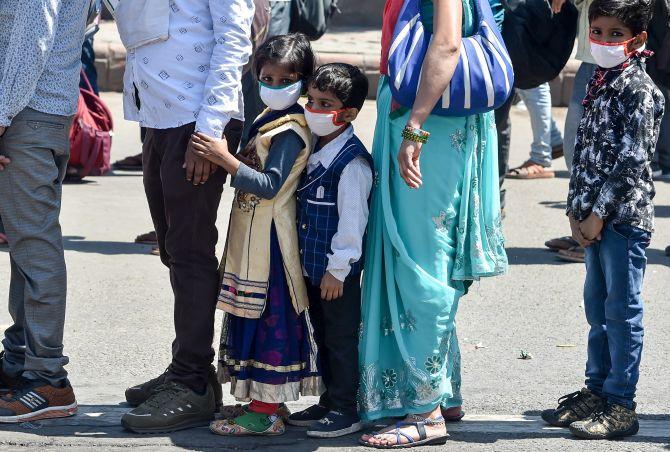 It is a bold and timely decision to lock down for three weeks.
There are bound to be gaps but the gaps should be filled by the bureaucracy state leadership.
At this stage the higher political leadership should be strategising future course of actions.
All tactical operations to flatten the curve to prevent exponential spike should be handled by the bureaucracy and administrative machinery under a designated ministry.
The COVID-19 crisis should be handled at tactical or functional level and at strategic level by higher political leadership.
Tactical actions are essential to break the chain and slow down the process of contamination with a view to identify and isolate those who are infected.
Therefore, the lockdown should not be looked at as a solution, but a stage for preparation for putting in place a containment strategy.
The laying down of strategy for actions beyond three weeks and tactical operations should be addressed separately by two different organs of the government.
At the tactical level the bureaucracy must ensure that gaps in the existing lockdown policy are bridged and people are provided with essential services and food so that the objectives of the lockdown can be achieved.
Consolidation and containment strategies will only work if objectives of the lockdown are achieved.
Key areas of concern is monitoring of quarantined people and those who have been exposed to infected people.
The challenge at this stage is to put in place a strategy for future and articulate courses of action beyond April 14, 2020 when the lockdown comes to an end.
This is certainly a critical part to control and contain the threat.
The focus of government future strategies should be to identify, isolate, contain, treat, monitor, consolidate, clean and controlled functioning of the state.
Some key issues that needs to be planned and articulated in advance so that bureaucracy and states can start working implementation plans.
The plans must be formulated for consolidation of containment of Coronavirus as well as un-proportionate spike.
Both options should be on the table either to extend the lockdown or partial opening of certain areas for essential sectors.
There should be a strategy in place to clean areas systematically and then isolate them from grey zones.
Thereafter, the endeavour should be to expand these clean areas and make certain essential sectors functional.
A mechanism to carry out mass surveillance also assume significance so that infected individuals can be quarantined and houses can be de-contaminated in a phased manner.
This is time consuming process but requires resources and a systematic approach.
It is important to start this process from the farm sector since it is also cropping season.
There is a need for a contingency plan so that production of medicines, soaps, disinfectant, masks and medical equipment can re-commence.
In addition, stocks of processed food also needs to be built up.
Capacity building for enhancing testing labs and making available medicine, ventilators and essential medical equipment needs to be done on a war footing.
In fact, DRDO is supposed to be the agency responsible to create systems for decontamination of military infrastructure, personals and equipment.
They are also mandated to provide decontaminated masks, suits for soldiers as well as for medical personals of the armed forces.
There is an urgent need to identify and start the process of relocation of food, medicines and essential goods where stocks are likely to fall short.
At the same time identification and relocation of reserve human resources to run essential services must be planned.
Areas of utilisation of the armed forces in a staged manner should be worked out so that men and resources are not committed in bulk should the pandemic remain a long term challenge.
Utilisation of robots or unmanned systems for hospital management also require identification so that exposure of health workers and doctors is reduced to coronavirus patients.
---
Brigadier Narender Kumar (retd) is a Distinguished Fellow at the United Services Institute of India and a frequent contributor to Rediff.com.