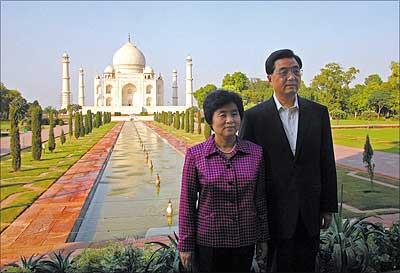 "Marvellous. Wonder of the world," wrote
Chinese President Hu Jintao
in the visitor's book after his 45-minute visit to the Taj Mahal in Agra on Wednesday.
Accompanied by his wife Liu Yongquing and more than 100 members of his party, the President showed keen interest in the history and architecture of the 17th century 'Monument of love' and went around it as fountains played 15-feet high along its central causeway.
Walking with his wife, Hu was taken around by Dr Dayalan, the superintending archaeologist, who explained the finer points to him through an interpreter. The President went inside the cenotaph chamber where he heard the famed 15-second echo -- of a 'muezzin' calling out and the sound reverberating for 15 seconds. Though the President did not make a tour of the main building, he had a view of the Taj garden from the main structure.
Image:
Chinese President Hu Jintao and his wife Liu Yongquing pose in front of the Taj Mahal.

Photograph: AFP/Getty Images