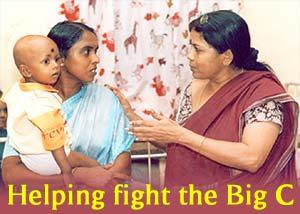 Muthulakshmy, all of 23 years old, lay curled up on the hospital bed next to her one-year-old son. She would not respond to anyone, or eat anything; all she would do was cry silently.
Finally the doctors requested Ranga Kumar, founder-president of Sanctuary -- the cancer support group at the Adyar Cancer Institute in Chennai -- to help Muthulakshmy come out of her shell. Mere cajoling and counselling did not work, she had to be treated by a psychiatrist with anti-depressants.
That was over a month ago.
When I met her, Muthulakshmy was waiting for Ranga Kumar at the institute's crowded reception centre. Gone were the tears, and the withdrawal. She stood erect and confident; the only thing that was missing from her face was a smile.
It was understandable -- she has seen the worst that life deals out. When her son was four months old, her 28-year-old husband collapsed in front of her and died of a heart attack.
A month later, her son was diagnosed with leukaemia. Her old father and brother-in-law accompanied her from southern Tamil Nadu to the Chennai hospital. But they had to return soon, not because they did not love her, but because they also had their daily life to think about.
With no one to turn to for help, Muthulakshmy could only do one thing -- lie close to her sick son and cry.
"I did not know what to do, I was devastated. It was then that Ranga Madam came to my rescue. She took me to a doctor, spoke to me, consoled me… Now, I know I have somebody to turn to if I have a problem. I also know my son will be cured. Till now, I didn't have to pay anything here at the hospital but yesterday, a doctor said they had to buy a very expensive drug from outside for which I would have to pay. That was why I was waiting for Ranga Madam," Muthulakshmy spoke in a low, but strong, voice.
Ranga held her closely and said, "You need not worry. I will talk to the doctor. If the money has to be paid, I will arrange for it."
Also waiting for Ranga was another young girl, 25-year-old Josna. "Madam, see, I am fine now. I will start radiation tomorrow. I am going to be all right. Thanks a lot for your help," she flashed a brilliant smile.
Project Sahayata: Fighting cancer
Josna came to Chennai from Visakhapatnam when she could not swallow anything: her oesophagus was completely blocked.
"After the operation they were feeding me through a tube, and there was a huge hole in my neck. Now it has all been covered and I can eat properly. I have a 6-year-old daughter, and I used to worry about her. When I saw small children suffering from cancer, I thought I shouldn't be worried or scared. After all, I have lived half my life already. When the doctors told me I might lose my voice after the operation, I felt so depressed that I cried one whole day. Whenever we feel low, Ranga Madam helped us a lot."
"She came on her own to talk to us. She also arranged for free treatment. I can never forget her help. She made us feel at home. Two days after my operation Madam visited me in the ICU. I do not have any relatives here except my husband, but she visited me every day. Till my death, I will not forget what she has done for us."
Ranga Kumar joined the Adyar Cancer Institute as a volunteer some 20 years ago, among 400 who joined the hospital then. Within a week that number dwindled to 10. Today, she is the only survivor from that initial group.
To start with, the volunteers assisted the poor and illiterate patients at the out-patients ward with paperwork."As I watched the patients, I felt there was a crying need to interact with them at a more emotional level. Slowly, I found people coming to us and talking about their problems. This kind of counselling just happened," Ranga remembers how it all began.
At the same time a friend returned from the US after undergoing cancer treatment, and spoke of cancer support groups in hospitals. The seed of an idea had been planted.
With permission from Dr Shantha, the institute's director, Ranga and another volunteer, Girija, started actively counselling cancer patients. Sanctuary itself came into existence 15 years ago. Soon Achayya, who was undergoing treatment at the Adyar Cancer Institute joined the group, and is now its treasurer. Ten years ago Sanctuary set up a trust with 10 volunteers and a core group of Girija, Sudheendran, Achayya, Sumathi, Geetha and Ranga, with a volunteer available at the hospital counter every day.
Sunil Dutt: Remembering Nargis
As the group cannot counsel everyone, the doctors identify the patients who require the most help, and ask Sanctuary to help them. As counsellors, they do more of listening, and encourage the patients to open up and talk.
The group has also formulated its own training programs, and one of the rules is, 'If you are stressed, you should call your co-volunteer, ventilate, and go home'.
"This is absolutely necessary as it is very unfair on the family if we carry the burden home," Ranga says.
Most of the general ward patients are from remote places in India, and almost all of them are very poor. They are also alone, since their relatives have returned home to continue their lives. Sanctuary volunteers thus give them a sense of belonging.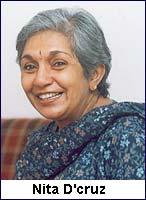 Nita D'Cruz knows what it is to suffer. She lost both her parents to cancer in a span of 12 days.
"After taking care of my parents, I felt I could also help out. The feeling that there is someone out there to talk to you and share your problems is so reassuring. Like my father, many had this fear about cancer. It is such a prolonged disease with such a terrible treatment which is far worse than the disease, patients need emotional help."
She then decided to reach out to the patients at the Adyar Cancer Institute.
'Go out and get that pap smear done'
One day, while working as a volunteer, she found a lump in her breast; it was cancer. And when the doctors at Apollo Hospitals told her the chances of cure were very high, she decided to undergo treatment.
Last year, Nita along with another cancer survivor, Neerja, started the Apollo Cancer Support Group with 30 members. Unfortunately, most of them stopped coming when they found the work difficult to handle. "Neerja used to be the heart and soul of our group, and she used to work very hard. Now, she is undergoing treatment after her second breast was also detected with cancer."
Today, Nita is the only volunteer working for the support group.
Nita carries with her a picture of herself undergoing chemotherapy, and shows it to patients. 'See, this was how I was once, but see how I am now,' she tells them, and it has an impact on the depressed patients, Nita says.
Nita took me to a 26-year-old Sri Lankan girl whose breast was removed because of cancer. "She asked me, why does it have to happen to me? I had no answer. She was very, very upset. I told her it is possible to reconstruct one's breast, it will really look good, better than the real ones. She asked me, but will it feel the same? I had no answer. Then she started talking about losing her beautiful hair. I showed her my picture and tried to cheer her up."
The only time when Nita falls short of words is with children. "How do you deal with a child? I don't know. When I look at their eyes, I feel helpless. I come back and cry."
"Children do not know the seriousness of the problem but they also get upset. To cheer them up, we have started a toy bank. They can play with any toy in the playroom, when they go back home they can take any toy they want with them. We have been appealing for people to donate liberally, even used toys, to the toy bank," Sheela Ketan, general manager of Apollo Cancer Centre, said.
As we come out of the ward, Padmini, a Sri Lankan who had come for her husband's treatment, tells me, "You don't know how much she helped us tide over our difficulties. I want to go back and start something like this in Sri Lanka. We don't have such support groups there."
Photographs: Sreeram Selvaraj
Image: Uday Kuckian