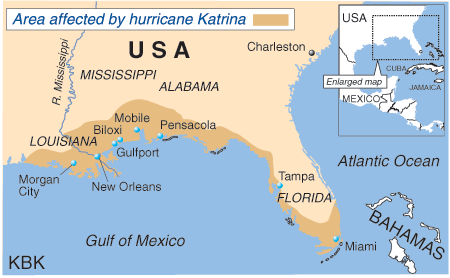 Announcing itself with shrieking 233-kph winds, Hurricane Katrina slammed into the Gulf Coast just outside New Orleans, submerging entire neighbourhoods up to their roofs, swamping Mississippi's beach-front casinos and killing at least 55 people.
Jim Pollard, spokesman for the Harrison County emergency operations centre, said 50 people were killed by Katrina in his county, with the bulk of the deaths at an apartment complex in Biloxi.
Three other persons were killed by falling trees in Mississippi and two died in a traffic accident in Alabama, authorities said.
For New Orleans-- a dangerously vulnerable city because it sits mostly below sea level in a bowl-shaped depression-- it was not the apocalyptic storm forecasters had feared.
But it was plenty bad, in New Orleans and elsewhere along the coast, where scores people had to be rescued from rooftops and attics as the floodwaters rose around them. An untold number of other people were feared dead in flooded neighbourhoods, many of which could not be reached by rescuers because of high water.
"Some of them, it was their last night on Earth," Chief of Homeland Security for New Orleans Terry Ebbert said of people who ignored orders to evacuate the city of 480,000 over the weekend. "That's a hard way to learn a lesson."
"We pray that the loss of life is very limited, but we fear that is not the case," Louisiana Gov. Kathleen Blanco said.
Katrina knocked out power to more than a million people from Louisiana to the Florida's Panhandle.