When sound editor Resul Pookutty joined a very small group of Oscar-winning Indians (following Gandhi costume designer Bhanu Athaiya and Satyajit Ray, who won a lifetime achievement award), he invoked the word Om.
He certainly set an Oscar record at the evening that belonged to the rags-to-riches love story, Slumdog Millionaire.
Another record was set when A R Rahman, winner of two Oscars (for the song Jai Ho and the movie score) for Slumdog Millionaire, used a Tamil expression. The movie nominated for 10 Oscars in nine categories had a dream run at the 81st edition of the Academy Awards, winning eight trophies, including for best film and best director.
In a way, the Oscar ceremony evening belonged to India.
Though Slumdog is a British film distributed in North America by an American mini studio, Fox Searchlight, the stage at the Oscar event was filled with Indian talent after the film won the best Oscar beating heavyweight films like The Curious Case Of Benjamin Button.
Apart from most of the key players including the kids, Anil Kapoor and Irrfan Khan, and apart from A R Rahman, there was also diplomat and novelist Vikas Swarup, whose book Q&A inspired Simon Beaufoy's Oscar-winning adapted screenplay.
Earlier, Smile Pinki, a real fairytale about an Indian plastic surgeon who operates for free and fixes children with cleft lips, received a documentary award.
Seldom has one seen such a big gathering of Indians on a Hollywood awards stage. When Gandhi won many Oscars in 1982 including for best film and best director, there were hardly any Indians on the stage, except Athaiya (the first Indian to win the award). Of course there was Ben Kingsley (born Krishna Bhanji), son of an immigrant with roots in Gujarat and a British mother.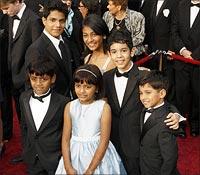 Cut to this year, with two of the three Oscar-nominated songs being in Hindi (with Jai Ho winning the award) and performed with colourful and vigorous Bollywood dances, and with Rahman invoking in Tamil a saying about divine greatness, the proceedings at times looked like a Bollywood event held in Los Angeles.  
"Winning any important award, be it Oscar, Golden Globes or BAFTA (the British equivalent of the Oscars) ought to help the film become a bigger success," Rahman told Rediff India Abroad. "Some people in India have said that the film insults India. But I believe that it is a film filled with hope and about healing and the fact that the kid in the film (Jamal, played by Dev Patel) chooses love over hate also shows how someone in India with little education can have high principles and values. People abroad can value and admire India more after seeing the film. It is also a good example of the artistic talent we have in India. "
The master composer also said that the film made him think of his own struggling days and how he kept his hopes high believing in the goodness of humanity. Growing up, he said, he had a choice between hate and love; but he chose love.
The eight Oscars for the film, which has also won major awards including BAFTAs, means a potential box-office resurgence, and where it opens in the next few weeks, a commanding start. Films which win best picture and best director carry much more box-office clout than films that win technical awards.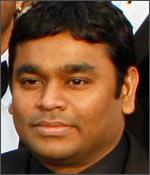 Slumdog is showing in some 2,200 theatres in North America and about 1,000 theatres in other countries. By coming Friday, the total number could exceed 4,500.
This is the first time the art-house wing of Rupert Murdoch's 20th Century Fox studio has won the top Oscars. Fox Searchlight has distributed several Oscar nominated and Oscar-winning hit films, like Little Miss Sunshine, Sideways and Juno, but seldom has the mini studio found such luck as with Slumdog.
The studio acquired the film for North American distribution (later adding India and a couple of other territories) when the original distributor Warner Independent folded into the parent company Warner Bros, which was reluctant to release the film in 2008.
It had many other films to take care of, and even seriously considered sending Slumdog straight to video. Now, Slumdog could eclipse Juno's $220 million worldwide gross in 2007. 
Made on a modest (for a Hollywood or British film) $15 million budget, Slumdog grossed about $170 million before its Oscar triumph; $98 million of it from North America and about $33 million from the United Kingdom.
Hollywood observers were saying over the weekend that even without the Oscars, it could end its worldwide run with an eye-popping $225 million. Now, the projections go beyond $250 million.
The movie is yet to open in Japan, South Korea, Germany, much of Scandinavia and South America. Some Hollywood insiders believe the film could fly beyond $300 million worldwide, making it one of the most profitable films of the last decade.
"When we set out to make the film, we were only conscious of the market back home," director Danny Boyle told Rediff India Abroad. The British director has made award-winning films like Trainspotting. But none of his previous films come anywhere near the critical acclaim and box-office Slumdog Millionaire has received.
"We thought given the fact that the British know quite a bit about India and Bollywood, and also the fact that we have a large South Asian population in the United Kingdom, the film would have a very good run in my country," Boyle said.
But when the film opened to enthusiastic response in Telluride, Colorado and received soon after even a warmer welcome at the Toronto International Film Festival last September, he knew the movie would do well in North America.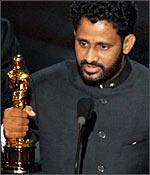 "Toronto for us was the defining factor," he continued. "And when reviewers across America began embracing the film, we became optimistic it would do very well in America and Canada."
The worsening recession in America also helped.
'Actually it's a film that says there are more important things than money,' Simon Beaufoy told reporters backstage after the award. 'That struck a chord.'
Most foreign distributors for the film are independents. Influential trade publication Variety called Slumdog 'the ultimate independent film, breaking all the rules in its box office performance and operating outside of a big studio's worldwide distribution net.'
The movie, the publication added, 'is a bonanza for its foreign distributors, who often get saddled with third-rate Hollywood fare or art-house titles that work in only a few territories.'
Variety also reported how some distributors turned 'creative' to publicize the film. In Italy where the film has become a sleeper hit grossing $4.2 million in 12 weeks, distributor Lucky Red gave it a Christmas-like publicity.
'The film was going up against all these Italian Christmas comedies, so the poster had Dev Patel and Frieda Pinto standing on the railway station which was now covered in snow,' sales executive Mike Runagall of Pathe International told the trade publication. 'It looked like Christmas in Mumbai.'
While Slumdog was the most triumphant Oscar nominee, the biggest loser was The Curious Case of Benjamin Button. Though the $150 million movie is doing very good business worldwide -- having grossed over $250 million halfway through its worldwide run -- and secured 13 nominations, including for best picture, best director (David Fincher) and best actor (Brad Pitt), it got the Oscars only for art, make-up and visual effects.