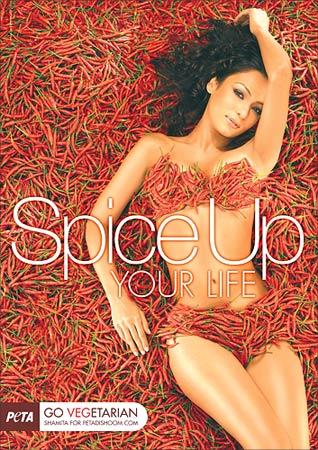 Shamita Singha gives the words 'red hot' a whole new meaning as she lies on a bed of red chillies wearing nothing but a smile for petaDishoom, the youth division of People for the Ethical Treatment of Animals India (PETA).
Model-veejay-Miss India Earth 2001 is the latest in a line of celebrities, who have posed PETA. This time the tag line of this red hot advert is to the tagline 'Spice Up Your Life -- Go Vegetarian.'
Practising what she innovatively preaches, Shamita turned vegetarian at a young age. "I realised that if I really loved animals, I could not eat them. [Meat] is not healthy and not good for your body," Shamita says.
Asked how she maintains her good looks and trim figure, Shamita replies, "I am a [vegetarian], and so I eat a lot of veggies, salads and fruits. I get all my energy from veggies and fresh stuff."