Hari Puttar, a children's film, has been in the eye of the storm ever since Warner Bros claimed the title was too similar to their blockbuster Harry Potter series.
However, director Lucky Kohli feels otherwise. He tells Nithya Ramani that he has nothing to worry, as his film has nothing in common with Harry Potter or the Hollywood film, Home Alone, about a child and two bumbling thieves.
Starring Zian Khan, Swini Khara along with Sarika, Jackie Shroff, Sourabh Shukla and Vijay Razz, Hari Puttar is slated to release on September 19. Over to Lucky:
What is the film about?
It is about 10 children, who happen to live without adults. The protagonist Hari Prasad (Zian Khan) saves the day by saving a secret from being stolen by two goons Filter and Diesel (Saurab Shukla and Vijay Raaz). It is a complete laughter riot and a family entertainer. I've tried to make it as funny as possible.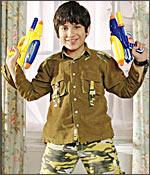 The story sounds similar to Home Alone and the title is similar to Harry Potter.
There is no resemblance in the name or script with either of the films. I don't want to waste time justifying myself. Hari is a very common name, and 'Puttar' is a word every other person uses to address their son, especially in Punjabi. In the film, the protagonist is called Hari Puttar by his family and hence the title of the film.
As far as the script resembling Home Alone is concerned, there is no similarity at all. My film has 10 children, songs and graphics that Home Alone didn't have. Hari Puttar is very different from Home Alone and Harry Potter, as this is not about magic or wizardry.
Was directing so many children tough?
It is a myth that children are very difficult to direct. I didn't have any problem in directing Zian or Swini Khara. Children are mature in their own way. Initially, I was scared too. But when I started, it was smooth.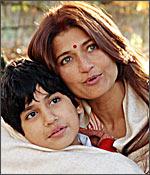 Why did you choose Zian Khan?
I auditioned over 100 children and zeroed in on Zian. I had seen his previous works and thought he would be the perfect match for Hari.
What do you have to say about the trend of making children-oriented films?
People should make children-oriented films. It gets very monotonous when you make multi-starrer films with big names from the industry with the same kind of story. Making children-oriented films is refreshing. Nobody wants to experiment and that is why they do not venture into something new.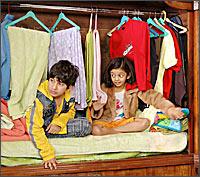 What is the inspiration for the film?
My children. The story was by Rajesh Bajaj and the pranks were adapted from a film called Carry On.
What next?
A martial arts films. It may be based on children again but it will a complete family entertainer. I will also be producing an animation film.