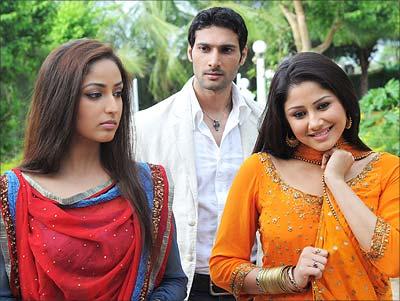 Set in the backdrop of contemporary Lucknow, Chand Ke Paar Chalo is a story about true love getting a second chance.
Chand Ke Paar Chalo traces the story of Rehan, a young man of Nawaabi lineage, who returns to the city of his birth after 15 years.
Following his father's murder, he was hastily sent away by his mother while still a child. Ever since, Rehan has been yearning to return home. Cut-off from his beloved Dadi, childhood friends and his true love Sana. Rehan harbours a deep resentment and bitterness towards his mother for sending him away.
The cast includes Aham Sharma as Rehan, Yami Gautam as Sana, and Zalak Thakkar as Anisa.
Sana earlier played Princess Bhairavi in Raajkumar Aaryyan, a fantasy show on NDTV Imagine.  "I do not identify with the character at all," she says. "The only common trait we share is that we are both reserved. I liked the character because it is performance-oriented. After 15 years, her lover Rehan is coming back. Even after meeting him, she holds back her emotions. There is going to be a surprise element in the show."
The character she played in her earlier show is very different from the one in Chand. Asked about preparations for the character and Yami admits that playing a Muslim girl is difficult. "It requires a lot of homework to play such character. I cannot comprehend Urdu and it was really difficult to pronounce a few words."
Yami was pursuing law in Chandigarh before she came to Mumbai. She is currently doing a correspondence course from Mumbai University and juggling her time between studies and work.
For Aham Sharma, this is his television debut. "I am from Bihar but have stayed away from my family for a long time so I can relate to Rehan," he says. "Every character in this show is simple and viewers can relate to them easily."
Text: Rajul Hegde
Catch this love saga this month on NDTV Imagine.