Last week, Rakhi Vijan was voted out of Bigg Boss 2. But the television actress, who was nominated along with Rahul Mahajan, does not think her friendship with Rahul caused her ouster.
Rakhi talks to Rajul Hegde about her Bigg Boss experience, and her housemates.
You're out of Bigg Boss. How does it feel?
Fantastic! I really feel good of being out of the Bigg Boss house.
Why do you think you were voted out?
I guess the strong contenders are nominated first -- like Sanjay Nirupam and me. After coming out of the house, I learnt who had nominated me. But I don't hold any grudges. One must not forget that this is a game show.
Some housemates said that you were nominated because of your over-confidence.
Could be.
Did your friendship with Rahul Mahajan lead to your ouster?
I don't think so.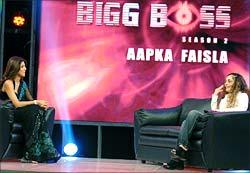 Why did you think you lost to Rahul Mahajan?
Rahul is a popular figure and I have been out of sight for some time. That worked for him.
How was your experience in
Bigg Boss
?
It was a great experience. I had a blast. Initially, I was upset when I was nominated. But after a couple of days, I was fine.
Who was your favourite in the house?
Rahul Mahajan. We have made some plans. Once he is out of Bigg Boss, we will go ahead with it.
Anyone you disliked?
No one.
But I really don't know what Sambhavana Seth was up to. She was talking behind my back. Viewers must have seen everything and would have judged her by now.
You were matchmaking Rahul and Monica Bedi. Do you think that will work?
Did I do that? I thought I had taken my mike off when I was discussing this with Monica.
Well, you see in the coming episodes. You will know whether I was right or wrong. I don't want to say more on that.
Would you return to the
Bigg Boss
house if you were asked to?
No.
Do you think
Bigg Boss
helped your career?
I wanted to return to television; that's why I took up this show. This should help me get work in the industry.
What next?
I am blank. First, I need to go and chill out for a few days.