The gift of eloquence is not bestowed on many. Nor can good intentions replace its impact.
And so, despite a relevant script (by Aseem Arora) at hand, director Samir Karnik isn't entirely fluid in articulating his objectives on celluloid.
The message his Heroes would like to convey is patriotic yet simple: You don't have to be a soldier to love your country. Ironically, it arrives on this conclusion after treading through the lives of three army men and the last letters they wrote to their families before attaining martyrdom.  
Heroes, except its coming-of-age on a road trip approach, has no semblance to Walter Salles's The Motorcycle Diaries. Perhaps, Karnik should have emulated some of Salles's realistic (as well as regional) accuracy or sought to present an earthy account in the lines of Ashutosh Gowarikar's Swades.
Instead he opts to rip off an episode of Friends, wherein our desi Ross Gellar (Vatsal Sheth plays Nawab. The young actor is sincere but lack screen presence) is trapped in a pair of sticky leather pants in the middle of a hot date (with Riya Sen in a now-you-see-her-now-you-don't avatar).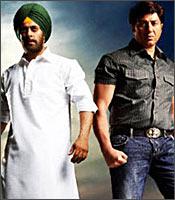 Heroes is narrated through him and best friend Saand (Sohail Khan). Owing to their poor score in film studies, the inept filmmakers are asked to submit a documentary project as their one last chance at graduation. In typical Bollywood fashion, irreverence and lack of productivity is conveyed by these young men with trite brashness and dim-witted enthusiasm. It may be noted how Saand leaves no opportunity to showcase his beefy physique. Even to lift a suitcase, he promptly takes his shirt off.
A few seriously annoying Sohail Khan reels later, Heroes, the film, at last, gets underway. Soon enough, we are shown inside the intimate, strong-willed facets of three families, in three different parts of the country, who have lost a husband, a brother and a son to war. Connected by tragedy yet brimming with undefeated courage, they inspire Nawab and Saand to a path of self-discovery.
It's a novel premise, which pleasantly enough, doesn't build on verbally lashing out at the 'enemy' nation. There's a fair-minded acceptance among all its victim protagonists -- they (opponent side) were doing their job. We (Indian army) did ours. This understanding attitude is especially surreal when coming from the King of jingoistic jibes, Sunny Deol.  
That doesn't mean he denies the audience the pleasure (or otherwise) of his muscular antics. In a Gadar-themed  moment of deja vu, Deol, essaying a physically-challenged ex-Air Force officer, plunges himself onto a bunch of puny mischief-makers and then scrambles frontwards by punching his fists through a pile of crackling tiles. The sight, dear readers, is as stupefying as this description.  
The brawny star has surplus stamina though. Deol employs it to lend an edgy streak to his bravado as well as share a swaggering chemistry with kid brother, Bobby Deol (making a too-fleeting-to-evoke-any-reaction appearance).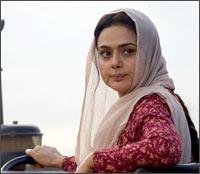 Speaking of bonding, there's not an ounce of it to be seen between Mithun Chakraborty and Dino Morea playing an exceptionally close father-son duo in the third act of the story.  While Dino doesn't have much to do except look photogenic, Mithun plays the disgruntled, disappointed daddy to the best of his poignancy in a script, which doesn't flex enough to convey anything else.
While Heroes suffers for want of terse editing (too many songs, sluggish scenes), dramatic background score, nuanced actors in lead roles and a more believable climax, it tries to make up with Binod Pradhan and Gopal Shah's panoramic captures of Ladakh and Himachal Pradesh in addition to powerful performances by Preity Zinta and Salman Khan.
Of all the three episodes, their story is the most effective and stirring. Preity is a picture of luminous grace and silent spirit. Her restrained depiction of suffering and reliability escalates the depth of her character, as well as performance, to a new level. It's a choking moment, as you witness the changing graph of emotions on her face when Sohail reads out her deceased husband's three-year old letter.
Salman Khan, too, deftly avoids any overlap between his down-to-earth Balkar Singh with his prevalent, stylised aura, creating a sympathetic corner within the viewer.
Had Karnik passed on the sentimentality this effectively in the plots to follow, Heroes might have been as compelling as its purpose.
Rediff Rating: