Samir Karnik may be twice bitten, but he's not shy yet.
The director, who helmed two flops Kyun... Ho Gaya Na and Nanhe Jaisalmer, is back with Heroes, releasing this Friday. The film stars Sohail Khan and Vatsal Seth, along with big stars like Salman Khan, Sunny Deol, Preity Zinta, Mithun Chakraborty and Bobby Deol.
Samir talks tells Patcy N how he managed to convince such big stars to act in his film, and much more.
What is Heroes about?
Heroes is about two film students [Sohail Khan and Vatsal Seth], who go on a mission on their motorcycles. They have to deliver three letters to people, who could not make it to the armed forces. It is about their journey.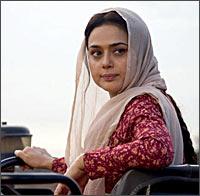 You had earlier titled the film, Mera Bharat Mahaan, and then changed to Heroes.
Yes, this film has a universal topic, it can be based in any country. That's why I thought of giving it a universal title like Heroes.
How do you manage to convince big stars like Salman Khan, Sunny and Bobby Deol, and Preity Zinta to work in Heroes? For that matter, you got big stars like Amitabh Bachchan, Aishwarya Rai and Vivek Oberoi to work in your first film, Kyun... Ho Gaya Na?
I think I am lucky. It is difficult to get appointments with actors in this industry but I have been fortunate. I think my script-narration is good, that's why it does not take me long to convince actors to work in my films.
This is a road film, so there must have been extensive travelling.
We shot in many places like Ladhak, Himachal Pradesh, Punjab, Delhi and Mumbai. We shot for 77 days, out of which 50 days were shot outdoors. The rest was shot in Mumbai.
We faced natural problems since we were mostly shooting outdoors. Once we got stuck on the Manali-Leh road and the army had to rescue us. We had a crew of 150 members, who had to kept in transit camps.
In fact, the major problem was accommodation. There are no living facilities at high altitudes. Besides, we had so many actresses and no toilets for them.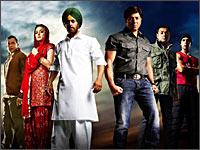 How was it working with Salman and Preity?
Both of them are professional actors. They would finish their shoot quickly, as they had to shoot in other places as well. When we had the accommodation problem, both Salman and Preity adjusted very well. They were fun to work with.
How did you convince Salman to wear a turban?
I did not, my script did. After listening to the script, Salman liked the character and agreed to wear this get-up.
When we went to shoot, we went prepared with a wig and a turban, as he plays a Sardar. But when Salman came on location, we saw that he was already growing a moustache and beard. So we decided that instead of getting him a readymade turban, we would tie a turban for him for authenticity.
Salman did not smoke or drink when he wore his get-up out of sheer respect for the Sikhism religion.
What are your best memories of shooting Heroes?
All my memories are good. But the best one is shooting at the Indian Army and Air Force camp in Ambala. Jet fighter planes were flying just 20 metres away from us. What can get better than getting permission to shoot in such an area?