You probably know the background already but just in case your newspaperwallah stopped delivering the entertainment section of your morning reading material for the past few months, Kidnap is director Sanjay Gadhvi's first film after the end of his contract with Yash Raj Films (which yielded the unsuccessful Mere Yaar Ki Shaadi Hai and the super-successful Dhoom and its sequel).
This is also the second release for shooting-star-of-the-moment Imran Khan (after Jaane Tu... Ya Jaane Na)and the first time we see starlet Minissha Lamba as something other than the cute girl-next-door. Sounds good? Of course it does.
The promos did a decent job of selling Khan as the villainous Kabir, who has kidnapped Sonia (Lamba), the daughter of Vikrant Raina (Sanjay Dutt), one of the richest men in the world, and is holding her hostage so that he can play some twisted games with Daddy Dearest.
Intriguing enough premise.
Except that the twisted games never manage a genuine spiral, the evil on display does much less to chill one's bones than the air-conditioning in the multiplex, and the hard-nosed businessman seems to have replaced his granite with foam rubber.
On the surface it is sort of foolproof right? The Deadly Dutt fathers Luscious Lamba with "Main yeh nahin kar sakti" Vidya Malvade and the whole family is under siege because Khan is exacting a deadly revenge for some slight they don't even remember. All this 'excitement' under the stewardship of Dhoom Boom Gadhvi who seems to have adopted the installation of an intriguing villain as the centrepiece of his last three films, almost as if it was his lucky charm? Surefire winner right?
At the box office? Perhaps.
As a triumph of masala storytelling? Not so much.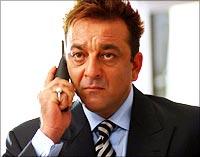 Bollywood has a long history of promising way more than it delivers so nobody will be really surprised to see so much effort being tossed into promoting a product that clearly suffers from a case of 'too many plumbers attempting to cook'.
The idea at the core of this digressing concoction had all the makings of a taut thriller where smart editing, spare dialogue and interesting action could have contributed towards creating an above-average film. In these days of financial market stress (and who knows what other woes resulting from that) it would have been a huge relief to simply be entertained. Turns out that such expectations are a tough ask for the people behind this movie.
Instead of pithy one-liners, we get long dialogue passages which do precious little to either move the story forward or impress the audience with displays of verbal jousting. At one point, the angry mother of the kidnapped girl drips vitriol as she refers to her estranged husband as an 'arrogant man'. Really? That was the best insult she could come up with in a moment of impotent rage? Or how about the cringe-inducing "Go to hell!" followed by "Hell is right here, Raina." Is this what they mean by Hinglish cinema?
The action sequences are not bad, especially the parkour-inspired chase sequence that seems to depict Khan essaying some vertigo-straining leaps and bounds around the façade and insides of an under-construction building. But they also highlight how woefully out of shape Dutt has allowed himself to become.
There is zero chemistry between Khan and Lamba. They exchange a few glances, he catches himself staring at her cleavage a couple of times and really that's about it. If you can stop laughing at the fact that La Lamba breaks into a bump-n-grind at amazingly inappropriate moments, you might notice that she has quite a vast wardrobe of revealing outfits for a girl, who has been kidnapped. Same goes for her harassed mommy who always seems to find time to arrange her cleavage in such a way that we won't notice what a bad job Ms Malvade is doing of attempting even a single expression.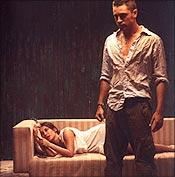 I'm sure no one is really going to notice any of these 'minor' transgressions because they will be so gripped by all the exciting events unfolding on screen. I still think it's not unfair for a paying audience to expect that filmmakers would put some thought into the nature of the movie they were making.
As far as the performances go, Dutt looks out of breath and uncomfortable most of the time while Lamba seems to be relying on her cleavage to distract attention from her comical performance. Which brings us to Khan.
He looks very capable when he's running, jumping, diving and snarling; hell he almost looks believable as a bad guy out to do worse. The haircut doesn't do him any favours though and he delivers his Hindi lines as if he were speaking in English and the English lines... well you've already heard a sample in those promos. It's understandable why the film was marketed around his presence but it also puts the responsibility for its performance on his young shoulders. He looks the part, even if he doesn't sound it.
This movie is only to be watched if you forgot to rent something more interesting on DVD. Or if you are a Sanjay Gadhvi fan; or an Imran Khan fan; or a Sanjay Dutt fan; or if you just like cleavage... actually when I think of it like that, this movie might be a huge hit. 
Rediff Rating: