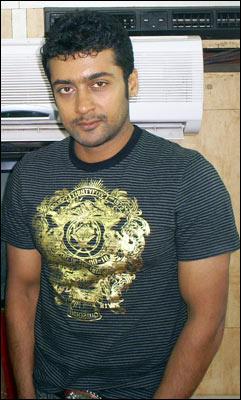 Actor Surya is hot property in Tamil cinema right now. Unlike some of his illustrious fellow-actors who took the elevator to success, for Surya it has been slow but steady climb.
Yet, at every stage of his career, top directors lent a helping hand. If Bala rediscovered Surya the actor in Nanda, then Goutam Menon made him a 'shooting star' in Kaakka Kaakka. And Ghajni proved that the industry will 'remember' him forever.
In Mumbai for the shoot of K V Anand's film Ayan, Surya spoke exclusively to rediff.com about his new Tamil film Vaaranam Aariyam and the Hindi version of his Ghajini being made by Aamir Khan.
Hours before he took a flight to Chennai, to reach there in time for release of his most-awaited film, a nervous but confident Surya told Rajaneesh Vilakudy that Vaaranam Aariyam is the toughest film he has ever acted in.
On Vaaranam Aayiram
It is a film straight from the heart. It is also the toughest film I have ever been involved in. I had to shed weight considerably.  It was not easy to do that. There were so many dimensions to the roles. I played the role of an old man -- that was very challenging.
Ageing, nowadays, does not mean a face with wrinkles. Even at 45+, there are people who show no signs of ageing. There is no grammar attached to the old-age roles. So the focus was on body language and all. It is till date the toughest role I have played. True, I have had Nanda, Kaakka Kaakka and many other films, but the physical hardship I went through for this movie was unparalleled.
Vaaranam Aayiram is very very special film not because of director Goutham Menon or actor Surya. It is because of the story that was being narrated. I won't term it different, but it is unique.
On Bala, his mentor
There would have been no Surya without Bala sir's Nanda. It was not just a mere turning point in my career. Nanda changed my approach and perspective about cinema. The films which I have done with Bala sir -- both Pithamagan and Nanda – were like study classes.
He taught me cinema was a serious affair. Hopefully, we will work together soon. There is no one like Bala Sir.
On Ghajini, the Hindi version
I am eagerly awaiting its release. I am sure it will be 200 percent better than the Tamil version. The Aamir Khan factor is a big difference. They have got so much time to shoot the film. Thus, Murugadoss has the chance and the time to rectify any mistakes he would have committed in the Tamil version. The improved technology in the last few years will make it a terrific movie. I have full confidence in the Aamir Khan-Murugadoss team. And to me it is the toughest role -- physically -- Aamir has ever played. He struggled a lot and I am sure and it will pay dividends.
What Aamir Khan told him about his role in Ghajini
This is what he said: "Surya, I am trying to forget what you have done in the Tamil version. But everytime I am trying to do that, it keeps coming back." That was a huge compliment from an actor whom I adore.
On Aamir Khan and his films
I am an Aamir fan. I grew up watching his films. I should say I have been inspired by his films. Dil Chahta Hai was an inspiration when I played the role of that business tycoon in Ghajini. Especially the wardrobes and the elegance associated with it. His role in Rangeela crossed my mind when I did Pithamagan -- the ruffian character.
Upcoming projects
K V Anand's Ayan will be the next one slated for release. Then I will work with  K S Ravikumar, Hari and Myshkin. Maybe, one with Murugadoss.
Image: Actor Surya in his vanity van during Ayan's shooting in Mumbai