After proudly showing his six-pack abs, popular Tamil actor Surya has shown another side of his personality; that of a social activist. He started the Arangam Foundation with the intention to popularise the importance of education.
The foundation has now made a short film Herova Zerova for the Department of School Education, Government of Tamil Nadu, to spread the message throughout the state. Tying up with the foundation is bharatstudent.com, an online portal for youth in India.  
Joining hands with Surya in the film project are popular actors Madhavan and Vijay, and his wife Jyothika. Others include director Priya V, cinematographer KV Anand, music composer Harris Jayaraj, Editor Sreekar Prasad and lyricist Na. Muthukumar.
Kamal Haasan, Aamir Khan, Prakashraj and Manorama have also spoken about the importance of education in the film. The 300-second-film is Surya's way of contributing to the society that made him a star.
In this interview, Surya speaks about the socially responsible side in him.
What does Agaram mean?
Agaram is the first alphabet in Tamil. Agaram is the beginning of everything connected with education. That is why we decided to have the name for our foundation.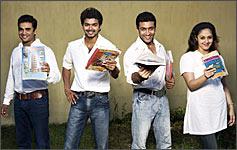 Your father (yesteryear actor Sivakumar) has been helping economically backward students in pursuing education. Now, you are also socially active. Was your father the inspiration?
Yes, it is my father who is my inspiration. My father has been helping poor students for the last 28 years and I am a witness to it all. Most of the students he has helped come to collect the prizes from my father's home.
Did you ever ask your father why he was actively encouraging students to pursue education?
My father lost his own father when he was just 10 months old. He was brought up in a village where it was very difficult to get good education. His sister was forced to discontinue her education because his family had only enough money to educate the boys. This is one reason why he wanted the girl child to get an education. He became an artist in Chennai only because of education. His attitude to life and life itself changed for the better only because he came to Chennai. Because he became an actor, he could give us children better education.
My father still fondly remembers and visits his teachers who have taught him discipline and principles to be followed in life. He believes strongly that education is what is needed to be successful in life.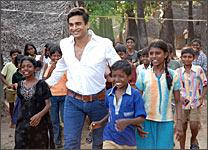 He was doing all of this very silently. But you decided to publicise your foundation and the film. Why?
This was done to make people aware of the importance of education. I am not doing this for publicity for me or my family.
That is the reason why I have roped in actors like Vijay and Madhavan in the film; so that they can send the message across effectively. I will not be able to meet each and every child who doesn't go to school and tell him the importance of education. If I can inspire anybody to sponsor a child's education though this film, it will be great.
Why did you think of making a film and using it as a tool?
Actually, it was the Tamil Nadu Education department that asked us to make a video clip urging students not to drop out of school. I thought that was not enough and why should this be restricted only to me? Why not include other like-minded actors who are my friends in the film? It is a great cause and it brought all of us -- Vijay, Maddy Jo, K V Anand Sir, Priya, Harris Jayaraj, Srikar Prasad -- together.
 Do you feel if actors say something, it will have more impact on people?
We are brand ambassadors. Even multi crore companies believe that we can pass on a message. If our names can sell products, why not use that power to spread a good message? All of us believe that we can make a difference. I am sure this message will reach the targeted audience.
How do you plan to take this film to the audience?
This film will be screened in all theatres during the interval. It will also be shown on all television channels as well as radio. Posters will be distributed. The state government is taking this film and the campaign to the interiors through at least a hundred mobile vehicles.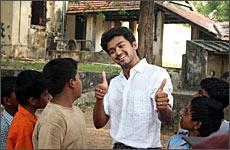 How did you come with the title Herova Zerova?
Our first title was Ulenayya, which means "present, sir". That was what students say when their names are called out but we are told students no longer say that in government schools. That is why we want to tell students that only if you study, you become a hero in life, and otherwise, you are a zero!
What are the other plans you have for Agaram Foundation?
We focus on the rural government school students. We have adopted a school in Palur in Kancheepuram district where we organise special classes for the students. We want to go beyond giving books and uniforms. We also introduce them to the outside world y organising trips. I wish I could do more...
Were there any unforgettable experiences for you while dealing with these children?
When a narikuurava boy we were educating passed out of the 10th standard with flying colours, my father gave him a cash prize of Rs 8000 so that he could continue his education. The boy, however pledged his prize to the girls in his class. 'I don't need this much money. There are girls in our school who wear torn skirts. Please buy skirts for them,' he told my father. It was such a humbling experience for us. We felt we have not been doing anything compared to the boy.
There was another boy whose mother passed away on the day of his examination. He went ahead to write the examination and then performed the funeral rites. He said his mother's last wish was to see him educated. It was a touching moment for all of us.
Was making the film a humbling experience for you?
The way my friends from the film industry dropped all their work to be a part of this film was a very humbling experience for me.
Do you feel all celebrities have to be socially responsible?
Why only celebrities? I feel each and every individual has to be socially responsible.