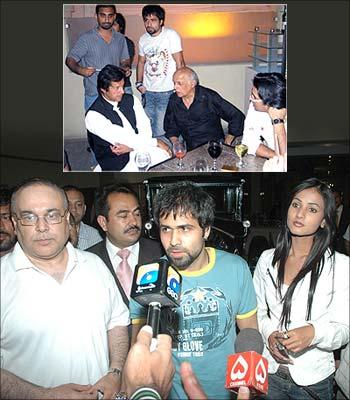 When Mahesh Bhatt took his new release, Jannat, to Pakistan, they got everything they wanted -- a grand reception and media hype. 
To support them were none other than Pakistani cricketers Imran Khan and Wasim Akram. Pakistani actor Shaan (Khuda Ke Liye) also joined in the celebrations.
The film's premiere, held at Gulistan cinema, Lahore, saw almost 2,000 people.
Jannat star Emran Hashmi got the same treatment in Lahore that Shah Rukh Khan gets in India. The Pakistani media followed Emraan from the time he came to Lahore, until he left.
In the picture (top): Mahesh Bhatt chats with Imran Khan and Wasim Akram while Emraan Hashmi stands. Bottom: Emraan Hashmi addresses the media.