In the last couple of years, quite a few serials have died an unnatural death -- be it big banner shows like Twinkle Beauty Parlour, Kulbadhu and Jeete Hai Jiske Liye or smaller ones like Ambar Dhara.
Bidaai, being aired on Star Plus, is perhaps the only soap to have held its ground firmly and become a success story. In fact, it has managed higher TRPs than the mother of all soaps, Kyun Ki Saas Bhi Kabhi Bahu Thi.
There is no denying the fact that Sara Khan has a major role to play in the success of this serial. The actress, who plays Sadhana in Bidaai, also appeared in Shah Rukh Khan's Kya Aap Paanchvi Pass Se Tez Hai last weekend.
Showbiz, however, is not new for this 18-year-old. "I was crowned Miss Bhopal last year and have been doing advertisements in Bhopal for a long time," Sara says. "By the time I turned 16, I had modelled for 48 ads."
The actress also anchored shows for Doordarshan Madhya Pradesh and ETV before moving to Mumbai. So it was natural that Sara would try her hand at television here.
"When I came to Mumbai, my rakhi brother Vivek Jain showed my portfolio to the producer of Bidaai, Rajan Shahi. He liked my photographs and asked me to join the serial at the earliest," Sara explains. In Bidaai, Sara plays a sweet girl, who cannot think beyond her family. Her life takes a turn when she gets married to a schizophrenic and faces a lot of problems.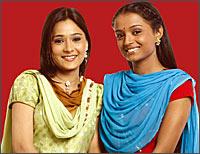 So how does it feel to be part of the number one serial in Star Plus? "It feels great!" Sara exclaims. "I still find it difficult to believe that in just six months, Bidaai has reached such a stage. Everyone in the production house has a major role to play in the success of this show, not just the actors. It's unbelievable how everyone is so dedicated here."
But showbiz never comes easy. Recently, Sara fainted on the sets due to fatigue. "I've fainted quite a number of times actually, though my mother doesn't know about it yet. I am not used to such hectic schedules. I work almost 20 hours a day. If it were not for my colleagues, I wouldn't be able to manage," she says.
Rumour mills are abuzz about her seeing Angad (her on-screen husband in Bidaai). In fact, they have been nominated as the most popular couple in the Star Pariwar awards.
"We are the youngest onscreen couple to have been nominated for this award. It feels great to know that people are so fond of us. I hope the votes will also speak for us," Sara says.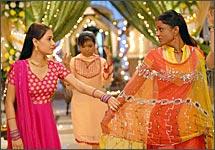 So are the rumours true? "Let me tell you a fact. Angad is seeing someone, and that person is not me!" Sara claims. "Angad is a good friend of mine; he is very caring. I never thought that I would have such a good friend in the industry in such short time. I'm not seeing anyone right now. But I would not like to see someone from the same industry. It leads to a lot of complications."
Sara has become a star in her hometown, Bhopal, also. "When I went to Bhopal for a vacation, there was this guy who wanted my autograph," she smiles. "While I was feeling happy in a way, I was also very embarrassed in front of my family!"