Robert De Niro launched the Tribeca Film Festival as a measure to revive the lower Manhattan area devastated by the terrorist attacks of 9/11. Seven years later, the festival has become the largest film event in New York City. Manhattan is a perfect place for the festival -- combining the city's high film culture with its ability to party and celebrate.
The screenings take place at several locations and in a way, the whole city becomes a film festival. But there are people who only associate Tribeca with De Niro. I have been often asked if I have seen Robert De Niro. But I patiently explain that De Niro doesn't run the day-to-day operations of the festival and it's not like he is present at every press screening or premiere.
This year, the Tribeca Film Festival ran from April 23 to May 4. But for me, the festival started a few weeks before that, with the pre-festivals press screenings.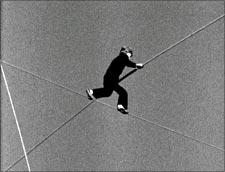 So this is what I did on the opening weekend of press screenings. I watched Man On The Wire, a riveting documentary about the French daredevil Philippe Petit, who walked on a tightrope between the Twin Towers in 1974; War Child, a documentary about a child soldier in Sudan,, who is now a hip-hop artist; Andrzej Wadja's Oscar nominated film, Katyn, that depicts the 1940 massacre of 15,000 Polish officers; Paraiso Travel, a very entertaining and moving film about illegal Colombian immigrants in New York City; and finally, Let the Right One In, a creepy and gory Swedish coming-of-age, vampire love story.
This year, I played a double role at Tribeca. In addition to covering the festival as a member of the press, I was also part of a film team. Last year, American cartoonist and animator Nina Paley asked me and two others (including Loins Of Punjab Presents director Manish Acharya) to do a voiceover for her film, Sita Sings The Blues. Paley made us into three Indonesian puppets narrating the story of Ramayana. Tribeca would host the North American premiere of Sita.
Paley self financed the film and did all the animation herself -- on her computer and in her apartment. She could not afford a publicist and so we got together to device a media plan -- writing a couple of press releases and strategising how to approach film editors of various New York publications. But Paley also had some free publicity working for her. A team of cameramen from WNBC were following her for a pilot show -- My First Time, exploring three first-time filmmakers in days leading to and during the festival.
A couple of days before the festival started, I was contacted by a friend. Tribeca was looking for a journalist to interview Pakistani director Mehreen Jabbar for her film, Ramchand Pakistani. I watched the film in my living room, and I was impressed by Jabbar's honest and moving story about a Hindu father and son from Pakistan, who spend years in an Indian jail for illegally crossing the border. 
On Thursday April 24, I was completely thrown in the Tribeca mood. The Sita team was called in the afternoon for a photo shoot by the festival's official photographer. We were minor celebrities at an event that draws crowds of famous movie stars and filmmakers. That evening I attended a press reception to meet first-time filmmakers. An hour later, I was at American Express' Insider Center at Union Square where I interviewed Jabbar in the presence of nearly 100 people
I topped the evening with two more parties. First at the Apple store in Soho -- packed with cool looking film personalities and regular Manhattan residents, who had gotten in through their connections. It was strange to see alcohol and food being served in a space where all the Apple products and accessories were on display. Later, I headed down to an Italian restaurant Acqua in the South Street Seaport area. I had an invitation for a party to mark the premiere of the Italian film Quiet Chaos. Good wine and delicious pasta was a fine way to end a busy day.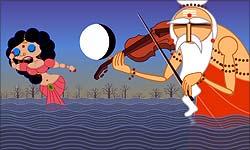 Sita's premiere was held on Friday, April 25, in the East Village. The show was sold out, and it was wonderful to see so many friends at the opening night show. The audience enjoyed the film, laughing at the right places. There were four more screenings of the film -- each drew more familiar New York faces. There were question-and-answer sessions after each screening -- enthusiastic audience wanting to know everything from what drew a white American Jewish animator to the story of the Ramayana to whether the film will ever be shown in India.
Sita also got notices in the media -- from a lengthy interview with Paley on Wired.com to a mention of the film by the New York magazine critic on the WNYC radio station.
On the morning after Sita's premiere, I headed back to the East Village to catch the 9.30 am press screening of Santosh Sivan's Before The Rains. In the early hours of the New York morning, Sivan's film transported me back to pre-independence Kerala. Sivan's stunning camerawork and Rahul Bose's quiet and moving performance made up for the lapses in the film's script.
Two days later, I was at the Soho House -- the location for a number of Sex In The City episodes -- in the Meatpacking district of Manhattan for the press day of Before The Rains. Bose and Nandita Das were there along with the two British stars of the film -- Linus Roache (Priest) and Jennifer Ehle (BBC's Pride And Prejudice). Sivan's plane was delayed and I missed interviewing him.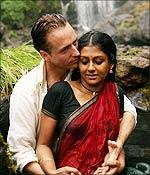 Later that afternoon, the Indian Consulate held a press conference and reception for the Before The Rains team. I skipped the event and instead headed to the festival press office to watch a screener of Donkey In Lahore -- an oddly titled, yet likeable documentary about an Australian puppeteer who fell in love with a 17-year old Pakistani girl and later converted to Islam to marry her. Directed by an Iranian-Australian filmmaker, Faramarz K-Rahber, Donkey explores a love that evolves despite huge cultural, language and regional differences between its two protagonists.
On Thursday, May 1, I was Paley's guest at the festival awards event at the Filmmakers' Lounge in the Parson School of Design. It was an informal event -- more of a party than an awards show, although ever so often there was an announcement that the show was being recorded for WNBC. In between drinks and appetizers, I talked to a young Latino man, sitting on a couch with crutches on his side. Turns out he was the Colombian producer of Paraiso Travel.
The official part of the event started with the minor awards. The documentary awards jury appeared on stage -- an odd combination of Whoopi Goldberg, Padma Lakshmi and Ross Kauffman (Born Into Brothels). And finally, best narrative feature award was announced. The winner was Let The Right One In – the creepy, Swedish vampire film. And the award was presented by Robert De Niro.
So yes, now I have a response for people who ask that odd question. I did see De Niro at this year's Tribeca Film Festival.