"Vasanth is the composite of several young men I know: gregarious, funny, and stylish. Ganesh is an intellectual with a liking for serious literature; some wit; some quick-thinking; some science, some history... and a deep, abiding fear of violence. That is him. And I am he."
That was how Tamil writer S Rangarajan, more famously known by his nom-de-plume, Sujatha, described himself when one of his numerous readers questioned him about how he created his reputed dashing duo of lawyers, Ganesh-Vasanth.
Also Read: Sujatha's Rang De Basanti link 
Talking about his writing techniques wasn't something the writer, who passed away February 28, liked to do much, however. For Sujatha, life was all about writing, even as he simultaneously made way for science, technology, electronic voting machines and movie screenplays.
Out of the dozens of novels, screenplays, short stories and plays he wrote, several attained classic status, with the plot and dialogues discussed and quoted to rags.
Sujatha, the writer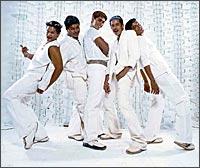 One particular work, written in the period he made a name for himself as a crime fiction/suspense writer was Karaiyellam Shenbagappoo (The banks are a-bloom with shenbaga flowers) a novel that I wasn't particularly keen on beginning, as it seemed to contain, at first glance, all the trappings of a standard treasure-hunt, antagonists, protagonists, mundane villagers and long-lost zamindari families.
I was in for a pleasant surprise.
Yes, it's a treasure-hunt, but it's a hunt that begins in an unconventional fashion. For one thing, the protagonist is a mild-mannered collector of folk-songs with no intention of scrabbling for treasure, lost or otherwise. While a naive village girl is upset by the arrival of a short-skirted descendent of the village's extinct zamindari family and following a rousing tale of one of Tamil Nadu's most famous folk-tales, the Pazhaiyanur Neeli Kathai. He follows the girl and drops a stone on her head.
Mayhem ensues, of course, with ancient diaries of a miserable queen surfacing, mysterious men toting bioscopes and frightening pools of blood discovered in the middle of the night. Who killed the last living descendent of the zamindars? Will the innocent village belle ever get the man of her dreams? What about the lost horde of treasure?
And all this, within a sleepy little village, as ordinary as you the ones you drive through, in a southern state.
Sujatha's knack of describing, in just a few sentences, the beauty of a night sky moon hanging low in the sky is enough to bring Thirunilam alive. Short, snappy sketches of the villagers, of Velli who's in love with her fiance, and haughty Snehalatha who prances around the village as a queen-in-waiting: the scenes are fresh, inviting, and drag you into the story at once.
But the part that steals your imagination is where, at midnight, the village listens spell-bound to the legend of a young wife who is brutally murdered. Her restless spirit haunts her husband who tries to escape his old life but fate hands him right back to her. As a lone owl shrieks on a moonlit night, the old tale progresses for the benefit of hushed villagers -- while elsewhere, a gruesome murder takes place.
For a simple tale, it sure packs a lot of punch.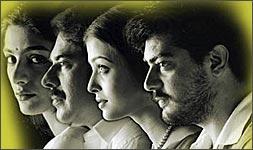 If the Shenbaga tale was an exercise in pleasure, Srirangathu Devathaigal (The Angels of Srirangam) was a completely different ball-game altogether. A collection of articles and stories set in his beloved hometown Srirangam, cataloguing life as he knew it in the 1950s, it was a revelation. Thus far, he'd written for his readers; now he wrote from his heart. His memories of the little temple-town with its unique characters, political situations and peculiar dialects made it an instant hit, pulling up nostalgic snapshots that tugged the reader back in time.
"... Arasu came to Rangu's little shop often. And we were a willing and interested audience to his glorious speeches. Marx, Mazzini, Russell ... those names tumbled off his tongue easily, and he spoke at length about the Sarvagan theory and Buddhism as well.
It was Rangu who broke the matter into the open, as it were. "Exactly what're you trying to say, Varadu?"
"Don't call me Varadu -- I've told you I'm A V Arasu." He'd managed to translate his original Sanskrit name of Varadarajan into Arangatharasu -- the Thamizh version, as the Dravida Party dictates demanded.  It was only natural that having proclaimed their anger towards Aryans, the people "not of this land," they should denounce Sanskrit, the celestial language of North India as well. Anything and everything that was Thamizh, the native language was lauded and praised, and Varad -- er, Arasu had changed his name to suit the need of the hour ..."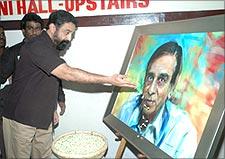 That's an excerpt from Arasu Pagutharivu Sangam, one of the stories that form part of the collection which chronicles the tale of an earnest young Brahmin who takes up the cudgels on behalf of the rationalist party -- and what transpires once he ties the wedding knot.
Other characters also parade through this touching collection of men and women who made up Srirangam of the 1950s: RaViRa, an inept man who's burning up inside at his wife's relationship with another, but seems, to Sujatha, like a modern day Jesus with all the cares of the world upon his shoulders.
And then there's Mappillai, the perennial privileged son-in-law who takes up everything from grinding his own tooth-powder and pain-balm, but never manages to make a success of anything in life. They're all real, sometimes cute, at others hair-rising ... but all with the touch of unique reality that can only come with someone who's lived with them.
Sujatha and his films
Sujatha wrote the screenplay for well-loved films like Rajeev Menon's Kandukondein Kandukondein, and Kannethire Thonrinaal. The first was an adaptation of Jane Austen's Sense and Sensibility, with Aishwarya Rai, Tabu, Ajith and Mammooty donning principal roles. Nobody who watched the movie could ignore the sharp, poignant dialogues.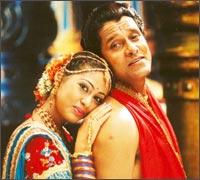 If Kandukondein... was a mesmerising potpourri of fantasy and reality blending together, Kannethirae Thonrinaal was a feast of a different order. Here was a tale of two bitter enemies who become friends through a series of logical events -- and then fate throws a monkey-wrench into the works in the form of love. In the end, when a distraught Simran confesses the identity of the man she really loves, Karan's acting gains weight only because of Sujatha's excellent writing. You can sense that these are the words of someone who's actually seen life -- not the driveling nonsense that's written just for the heck of it.
Boys was another movie that came in for a lot of talk and more flak. One of Shankar's most light-hearted movies, Boys contained some of modern cinema's most youthful dialogues, peppered liberally with innuendo and titillation. Unlike many movies, it was handed to the public unvarnished and ruffled a lot of sensibilities.
And how could you ignore the searing dialogues of Shankar's Mudhalvan? The scenes between Arjun and Raghuvaran have become a legend; sharp, precise, and with an insight into current politics that speaks of an intelligent mind and the ability to transfer it to celluloid. Between this and Anniyan, there weren't many who weren't impressed with his writing skills.
 "There needs to be a distance between a writer and his readers at all times," was one of his favourite and oft-expressed sentiments.