In 2003, a guitar-playing Sardar sang his way into the nation's charts and hearts with an unlikely mix of rock music and Punjabi lyrics. Rabbi Shergill was then a breath of fresh air.
Now, a Bollywood music direction foray (Delhii Heights) and four years of radical change in mainstream popular music in India later, he is back with his second album, Avengi Ja Nahin, from the Yash Raj stable, no less.
The album features Rabbi rocking it out with gusto, playing layers of guitar and delivering powerful lyrics – just don't let go of the inlay translation booklet -- at times. At most others, you are struck by an overwhelming sense of aural déjà vu.
Granted, rock thrives on repetition, but as you flit through the nine songs, the tunes and the progressions seem just too clichéd at times.
There is nothing with the songs per se, individually. Some of them grow with repeated listening. And there are some nice moments, like the accordion in the melancholic love song Challa, which opens the album. Karachi Valie, a Bryan Adams tune meets Punjabi lyrics thingie with lots of eighties rock standard guitar riffs and Rabbi sounding suspiciously like Rafi (or maybe it's just me), follows. The exact description fits Maen Bolyan too. Avengi Ja Nahin, despite being the title track and despite nice slide guitar lines, is what the British call tepid. Next up is Ballo, which might hold some appeal, with its electronic lounge sound, though its coda is the same progression as Bulla Ki Jana, Rabbi's breakout song (and about 300 other rock songs).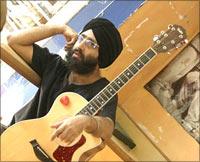 Tu Avin Bandra has a bit of something to it, in a Floyd-ish way.
And then we come to Pagrhi Sambhal Jatta, in which Rabbi tells the farmer, 'You'll have to buckle yourself up. No stranger is coming to your rescue.'
He follows it up with what has to be the album's best song, Bilquis. You might snigger Dylan comparisons, but it is the first time a pop songwriter has questioned the India Story, from Bilquis Bano to Satyendra Dubey, from Manjunath to Navleen Kumar. In true anti-anthem style, the chorus asks, Where are those who are proud of India. The sign off song of the album, the English Return To Unity, is a bit of a letdown, despite its Coldplay/U2 era sound.
Everything said, Rabbi has recorded the album almost entirely live, with real instruments and real people, in places like Brazil and Italy, played some really expensive instruments and sounds like he has had a lot of fun doing it. He is no fake with the guitar and can write some very catchy songs.
That's all that should matter, right?
Rediff Rating: