M Night Shyamalan's The Happening opens with a beautiful shot of a bright sky peppered with cumulous clouds. But this is not going to be a beautiful day.
We are in a Shyamalan movie and if that is not enough, James Newton Howard's menacing music gives us enough hints about that. The camera then briefly captures a summer day in New York City's Central Park -- people on roller blades, walking dogs, kids, playing Frisbee, or just sitting and reading. But this picture of perfection is pierced with a distant scream. And then, a woman, sitting on a bench, pulls out her hair pin and stabs her own neck.
All of this in the first five minutes of the film. And it gets worse -- especially for New Yorkers. A few blocks away from Central Park at a building construction site, workers are jumping off the roof -- and their mangled bodies falling on the sidewalk with loud thuds. The obvious reference to the September 11 tragedy apart, this scene hits too close to home for another reason.  In the recent months, there have been enough construction site accidents in Manhattan, with workers -- mostly poor immigrants -- falling to their deaths. 
In life, people get second chances. But now, I am convinced that even Hollywood can be forgiving. After the disaster called Lady In The Water and his other boring films, Signs and The Village, Shyamalan is back with bang. He fully redeems himself with The Happening, making it clear that The Sixth Sense and his other intelligent film Unbreakable were no flukes.  The 37-year-old filmmaker has talent. He only needs to keep a tight control on his self-confidence.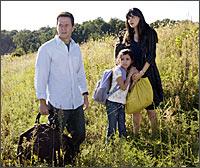 Much has been made out of the fact that The Happening is Shyamalan's first R rated film. Hard to believe, but The Sixth Sense -- the terrifying ghost story with touches of blood and a lot of dead bodies -- got a PG 13 rating.
But with The Happening director is in a new territory. An invisible, odd and natural happening (mercifully, we are told that terrorists are not so smart to be able to carry something at such a mass scale) -- which is probably carried over through plants and trees, is impacting people's brains and causing them to commit suicide. There are such disturbing imageries in the film -- lions ripping apart a man's limbs at the Philadelphia zoo, and a man laying himself under a large grass cutting machine -- that even adults will be freaked out.
The scene soon shifts to the director's hometown of Philadelphia -- a territory that he is familiar and comfortable with. And then except for a brief trip to Princeton, New Jersey, The Happening stays in Pennsylvania. But there is scary news from New York -- the whole city has been evacuated. Horrors, how in the world will that happen, if it has to happen?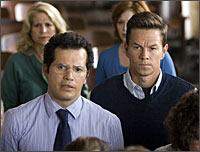 Shyamalan somewhat calms us by introducing us to his protagonists -- Elliot Moore (Mark Wahlberg), a high school science teacher, Alma (Zooey Deschanel) his therapist wife and Julian (John Leguizamo), Elliot's colleague in the school. Perhaps cities are too dangerous to live in, and so the three -- along with Julian's young daughter -- leave on a train journey through rural Pennsylvania.
But whatever is causing these inexplicable reactions in the human brains, follows them. Nothing stays calm in The Happening for more than a few brief moments. Along the way they encounter a mix of characters -- all frightened, confused and unsure of what roads to take, where to hide, to go in large groups or small, who to trust and who not to.
Two things work well for The Happening. The first is the film's pace. Unlike in Shyamalan's previous works, the film never drags. There is a never a dull moment and for once, the director listened to his critics and did not cast himself in the film.
But importantly,
The Happening
works because of Wahlberg. One of the finest actors of his generation, Wahlberg seems to give the sense that we will be fine as long as we stay along with him. His Elliot may not have all the answers but Wahlberg makes us want to trust his instincts and follow him until the end.
Rediff Rating: