Telugu superstar Chiranjeevi apologised to actor Rajasekhar, after his fans attacked the actor and his family.

Chiranjeevi said that in a democracy, everyone enjoyed the right to expression and was free to express his opinion.
"Anyone can voice his protest if his feelings are hurt by the remarks of someone else. But it is wrong to resort to physical attacks. The reaction from the fans is unnecessary and unfortunate. I disapprove of it and strongly condemn the incident," he said.

Referring to Rajasekhar's statement that 'Chiru has no political experience to start a party, and I will not join his party,' Chiranjeevi said that it was an individual opinion. "What he said is true. There is no need for anyone to be so sensitive to the remark. Even if one's feelings are hurt, there is no need to react in a violent way. It is not in my nature to condone such acts. I ask my fans and followers to exercise restraint and not to resort to violence or physical attacks," he added.

Sympathising with Rajasekhar's family for the trauma they suffered at the hands of his fans, Chiranjeevi reminded his fans that he, too, had a family and daughters. He said that he had highest regard for women. He expressed regret to Rajasekhar's actor-wife Jeevitha and daughters for the 'unfortunate incident.'
"I will call my fans and tell them it is not our culture to show disrespect to women," he stated.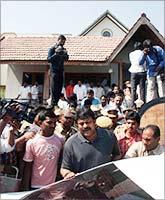 Rajasekhar told newsmen that he was satisfied with Chiranjeevi's condemnation of the incident.
"He said that it is not his culture," the actor said. "In fact, it is nobody's culture to encourage violence. By strongly reacting to the incident and calling on me to sympathise with my family, he (Chiranjeevi) has done justice to us. We have not demanded an apology but he apologised. We are satisfied with his advise to his fans."

"Whosoever has instigated the attack -- whether it is the president of the fans association or somebody else -- this is not the right way to show love and affection for their hero," Jeevitha said. "He (Chiranjeevi) is a great hero. We appreciate his coming into politics or becoming a leader or the Chief Minister (of the state). But his fans must know that others have a right to differ from him (Chiru). They cannot expect or force everyone to support him. There are so many political parties and leaders and their supporters cannot go and attack the rivals, who disagree with them. Like Chiru, his fans should behave in a decent way."

Earlier, visibly shaken by the incident, Rajasekhar and Jeevitha gave vent to their anger. Asserting that he had the right in a democracy to voice his views, Rajasekhar said that Chiru's fans should not be intolerant of anyone making comments about their hero.
"I am entitled to my opinion and I have voiced it. I told the media that since childhood, my family was with the Congress party. When (matinee idol) N T Rama Rao formed the Telugu Desam Party, I supported him. But so far, I have not joined any party and I don't know whether I will come into public life or not. I asked whether it was compulsory that I should join Chiru's party when newsmen persisted with their queries," he said.

Rajasekhar said that he would apprise Chief Minister Dr Y S Rajasekhar Reddy of the incident and request the government to provide proper security to him and his family. Jeevitha demanded the police to take stern action against those who attacked her husband and daughters.

A doctor by training, Rajasekhar turned to acting 23 years ago. He made his debut in the Telugu film, Vandemataram, in 1985 and has acted in 16 films so far. His last film was Villain, in 2003.
Jeevitha made her debut in Dharma Patni in 1986 and has acted in six films, including Ankusham.
Photographs: Snaps India