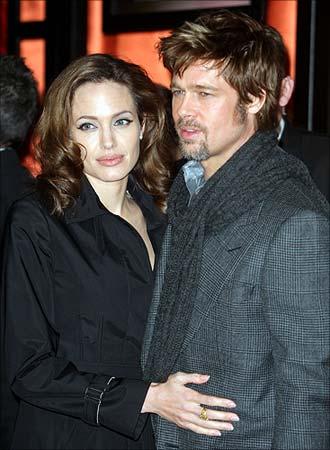 Brad Pitt and Angelina Jolie are reportedly set to add another child to their brood by adopting another girl from Africa.
And, the hint comes straight from the actress' brother James Haven, who said that Pitt and Jolie are keen on 'creating one big family'.
"They are creating one big family and will keep adopting as long as they are able to," the Mirror quoted him, as saying.
"Angie and Brad talk about how much they have been taught by their kids. In many respects Angie saved Zahara's life and there are so many more children whose lives she could save and she talks about that constantly," he added.
Brangelina will start looking at orphanages over Easter, and are said to have set their sights on adopting a little girl.
Jolie is already said scaling down her workload in preparation.
A source revealed that another adoption is sign of just how well their relationship is thriving.
"They would never, ever add to their family if there was the slightest bit of unease in their household. Things are better than ever," the source said.
The couple are already parents to three adopted kids -- Maddox, Pax and Zahara -- as well as their biological daughter Shiloh.
Text: ANI | Photograph: Getty Images