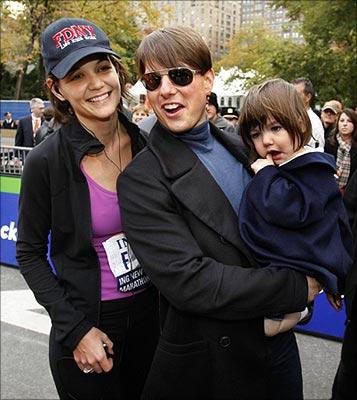 Tom Cruise and Katie Holmes' daughter Suri was conceived by sperm from dead Scientology founder L. Ron Hubbard, claims a new book by biographer Andrew Morton.
In the book, Tom Cruise: An Unauthorised Biography, Morton claims that the 20-month old dark-haired little girl is the product of a "Rosemary's Baby" like conception.
Morton, who rose to fame with a biography on Princess Diana titled Diana: Her True Story, has based the book on interviews with high-ranking Scientologists, or Sea Orgs, as they are known.
"Some Sea Org fanatics wondered if the actress had been impregnated with Hubbard's frozen sperm," The Sun quotes Morton, as stating in the book.
"Katie might have felt as if she were in a real-life version of horror movie Rosemary's Baby, in which a young woman is impregnated with the Devil's child."
Morton also claims that Cruise's ex wife Nicole Kidman was warned by Scientologists not to reveal details of her marriage to the actor as it would mean losing contact to their kids -- Isabel and Connor.
According to News.com.au, the biographer, states that Kidman was seen as a "potential trouble source" by members of the controversial church, in part due to her father being a psychologist, and due to the fact that she had given an interview emphasising her Catholic roots.
A high-ranking Scientologist source told Morton of a conversation with her lawyer, Bill Beslow.
"At this point Nicole hated Scientology but was concerned for the kids. She did not want to ruin her relationship with them. I told the lawyer if she wants to stay with the children she will have to be quiet and not speak out about Scientology."
The book, being published by St Martin's Press, but may never see the light of day in the UK or Australia because of strong defamation laws.
Cruise, for his part, has instructed his legal eagles to slap a whopping 50million pounds lawsuit on the publishers when the tome goes on sale in the US on January 15.
His lawyer Bert Fields said: "It's a boring, poorly researched book by a man who never talked to anyone involved in Tom Cruise's life or anyone close to him."
Text: ANI | Photograph: Timothy A Clary/ Getty Images