Based more-or-less around the life of a Bollywood struggler, Rajat Kapoor's Mithya is a stern warning against the dangers of method acting. Not just are such performers liable to overdo the histrionics in their overreaching attempts at reality, but often -- while inhabiting another character's skin -- there exists the possibility that playing the damaged could make us equally so.
It's a sobering thought, more so even than the prospect of traipsing the spoiler-filled minefields to review a twisty thriller without giving away the plot. Mithya is an unpredictable ride, a rare film that authentically extracts most of its pleasure from all that you don't know just yet. Which is why I don't really want to tell you what happens.
Ranvir Sheorey plays VK, a Bollywood extra hailing from Noida, with uncommonly realistic actor ambitions. He might rehearse Hamlet with his bedspread for a cloak -- much to the annoyance of his neighbours -- but even his dreams don't contain moments of sunglass'd superstardom. He's content trying to siphon off a little extra from the production manager, and hopes he eventually gets a role with an actual line of dialogue.
For now, VK is content standing at his regular wine-shop and picking up his quarter-bottle of whiskey. He asks the shopkeeper for his free drinking glass, a demand made with the considerable ease (yet fastidiousness) of the more-than-occasional drinker -- leading us to believe he could likely be building up a set of these humble glasses. So sits the actor with fifteen years of on-stage experience, drinking cheap whisky sitting by the everyman splendor of the sea.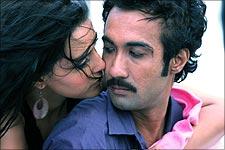 Then -- as they say in proverbs and bumper stickers with only the most minor of tonal variations -- stuff happens.
Starting off innocuously enough, this film is -- like the best of comedies -- about far more than the laughs scattered variously, and smartly, on the surface. Despite significant humour almost throughout, this qualifies as a bonafide thriller, a story with wheels within wheels that unfolds briskly enough -- the film weighs in at a crisp 100 minutes -- and yet gives you space to ponder. No mean feat, this.
Ranvir is given an extremely varied role, an acting job that requires adjustment at every other moment, having to flit constantly through mood and scale. Scared, dazed, inspired, romantic -- all often overlapping in a three-minute span. Wisely, the actor plays the character straight, never directly for laughs. Sheorey does very well indeed to capture the pain and the helplessness of the troubled protagonist, and winning sympathy is hard when audiences are busy chortling. He makes the character real, a common, believable man in an increasingly bizarre situation.
Sheorey's tag-team partner, the ever-reliable Vinay Pathak, is given a shorter role here, his often-amused Ram overshadowed by his comrade Shyam, played preciously by a hilarious Brijendra Kala.
Kala, clearly a gifted actor, is a superb cog in the comedic ensemble, frequently stealing the scene with his unimpressive indignation. Saurabh Shukla and Naseeruddin Shah clearly enjoy riffing off each other, and Harsh Chhaya seems to be having fun with a somewhat Sonny Corleone (The Godfather) character. While Neha Dhupia doesn't have too much to do, Iravati Harshe enriches the film with a layer of heart.
As mentioned, this is a film with feeling. Filmmaker Rajat Kapoor toes the line -- between organically, necessarily Filmi and devastatingly Poignant -- gingerly yet wistfully, his shoes often falling behind a few steps more than absolutely necessary, therefore making his sympathies and allegiances crystal clear.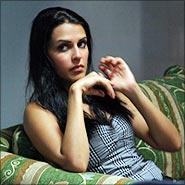 Like its protagonist, Mithya is a moody film, longing and lingering for more. It is a sharp film, mixing genres with unspectacular aplomb, and achieves possibly more than it set out to: sure it's a fun thriller, but in regard to the eventuality of the protagonist, it almost turns into a mystery movie.
Sure, there are flaws. The background score is more basic than a film written so neatly merits. Several establishing shots seem forced, as if a bunch of cutaways were glued together and called a scene. Occasionally, the mood-building and dreamscapes turn contrived. Post-interval, the film almost gives up the right to be called comic. Worst of all, the romance arc with Dhupia is hideously underdeveloped and premature, especially compared to Harshe's compelling character.
Yet, Mithya works. This isn't a film you're going to watch because of the sheer craft or the romance: you pay for a comic thriller and you get it -- and much more -- anchored in place by a very strong leading man and a director refreshing in an approach that refuses to try too hard. Go watch this: 2008 is yet young, but so far this is the year's best Hindi film.
A few weeks ago, a friend called to ask me for the Hindi word for Fiction. I racked my brains and -- after dismissing the significantly inadequate 'Imaginary/Make-Believe Story' -- decided that the closest I could come to was a word for Fabrication. It's somewhat disheartening to think of great novels and classic literature reduced to the word Lie, but what else is there? With efforts like Mithya, thankfully, Rajat shows that even an obvious falsehood can feel very real.
Rediff Rating: