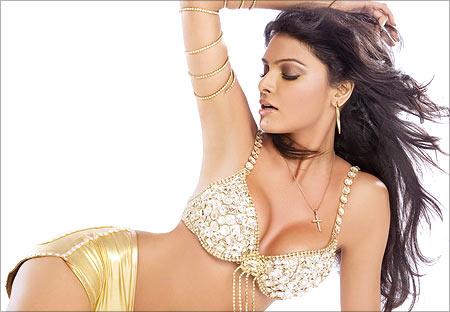 With Jade Goody leaving Bigg Boss 2 after being diagnosed with cancer, speculation is rife whether rising star Sherlyn Chopra will replace the Brit in the television show.
But for Sherlyn to give her nod, she needs an incentive, said her publicist Dale Bhagwagar. "Only if she gets what she deserves to be away for three months from the promotions of her latest musical success Dard-e-Sherlyn, will she agree to be on the show," he said.
What she deserves, the actress feels, is a fee of Rs 3 crore for her appearance in the Bigg Boss house.
Sherlyn also wants the makers to install cameras in the bathrooms of the house, so that she could flaunt her collection of bikinis and inner wear while bathing.
Now, Bigg Boss finds her demands outrageous. But do you think the starlet should be allowed inside Bigg Boss 2? Do you think the bold and beautiful actress she will add colour to the show?
Do you want to want Sherlyn Chopra on the show? Tell us!