When Mira Nair started calling up movie stars in Mumbai over a year ago, everyone wanted to meet her. And there would always be questions about the $100 million Hollywood film Shantaram she is directing with Johnny Depp in the lead. But when the actors heard she was looking for them to appear in a segment of the 80-minute long omnibus called AIDS JaaGo, the excuses started piling up very fast
"I guess they were worried over the stigma and that their professional value could sink if they acted in an AIDS-related film," she said. "I was surprised at the reaction."
But she would not give up, she said, because it was crucial that the film industry and its popular actors spoke to people on preventing AIDS and sending the message of hope to those who were either HIV positive or had AIDS. Movies are modern India's temples, she said, and movie stars were often venerated like gods.
"I want the massive star power in India involved in the fight (against AIDS)," she said. "In India, people do not go to see a 80-minute film," she said laughing. "There should be a paisa-vasool element in everything we do!"
Despite obstacles, the film was completed. And it had its world premiere on Sunday at the 32nd Toronto International Film Festival, drawing an impressive audience of over 800 festivalgoers and journalists.
Mira's segment, called Migration, features Irrfan Khan as a closeted gay man. Sameera Reddy, who plays his neglected wife, has a one night stand with Shiny Ahuja, a migrant worker. Raima Sen plays Shiney's wife, who gets AIDS, along with her newborn. The segment is written by Zoya Akhtar.
The segment sent out a clear message: Protect those you love, wear a condom.
Nair said once Irrfan accepted the project, many other artists were willing to feature in the films. But the biggest names eluded her.
Nair took off 24 hours from Shantaram to promote the AIDS JaaGO omnibus at the Toronto festival. "Toronto has always been marking a passage for me," said the director whose films The Namesake and Monsoon Wedding had their North American premiere at the festival. She said the four films in the omnibus, produced in association with The Bill & Melinda Gates Foundation, need to reach the widest audiences not only in India but also abroad. And to emphasize the point, she had persuaded Vishal Bharadwaj and Santosh Sivan who had directed two segments to travel to Toronto and join her in a discussion after the screening.
Farhan Akhtar, who directed one of the segments, could not attend because he was fighting a bout of malaria.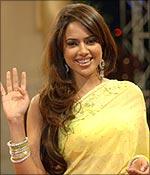 Sameera also attended the event, looking graceful in a sari.
Nair, who was one of the 11 directors to make 11-minute long films in an omnibus responding to September 11 attacks on America, said that it was that film, which also had its North American premiere at Toronto, that inspired her to make her newest. She also said that her co-directors had the mandate to choose any subject and narrate it the way they wanted.
"There was only one mandate, and that was about making each film chaloo," she said. "We wanted the film to reach millions and that meant we were making street smart, chaloo films. They were going to be entertaining and not boring films."
Vishal Bharadwaj's segment, Blood Brother, starts as a suspense film. A young man is shown following an older man. We learn that the stalker was diagnosed with HIV positive only to realise that he had a 'blood brother.' 
At the insistence of his wife, the young man musters courage to inform the older man about the test results. He is shocked when he realises that the man knows his medical condition but is not worried. He is concerned enough to take the medication. In a brisk narration, the audiences are told that AIDS can be treated just the way serious diseases are treated. But the afflicted man also talks about the difference between being HIV positive and having the AIDS. His life might become shorter, he muses, but he had gained quite a bit, especially the will to make it more meaningful than ever.
Farhan's segment shows a child watching his philandering father (Boman Irani). Years later, the child (now a young man) returns from higher studies in South Africa and discovers his father is dying of AIDS in a hospital. He reluctantly meets his father but cannot help the judgemental attitude that his father had brought it all upon himself. The only gesture he makes towards his father is to give him the details about cricket matches. But his mother (Shabana Azmi) nudges him towards reconciling with the father. The son reminds her of her husband's faithless behaviour and asks her why she still cares for the old man. 'It would have been a different thing if I had left him then,' says the mother. 'But now, he is really sick and he needs us, we cannot abandon him.'
Santosh Sivan's segment starts like a comedy, with a young village boy trying to get a lift to the city to see his ailing mother. The truck driver, played by Prabhudeva, wants to get rid of him but when the driver gets into a problem with the police, he pretends to be the boy's father and manages to get out of the tricky situation.
But soon his heart is tugging, and he helps the boy locate his mother
The woman is dying of AIDS, just the way her husband had died. And she doesn't want the little boy, who has not seen her for over five years, to know she is alive. She says that she is merely occupying the bed that once belonged to the boy's dead mother. But the driver suspects she is not telling the truth and realises that she is in the last stages of the disease.
The driver then comes to know that the boy has been expelled from the school because the parents and teachers were afraid that he too was AIDS-ridden. Making a vow that the boy would be in the school, the driver gets a lawyer to demand that the school will not be overtaken by the stigma and misinformation regarding the contagious nature of the AIDS.
"I wanted well known actors to be in my segment," Sivan said. Unlike Nair's experience, he had a very positive response from the film fraternity, he said.
"Prabhudeva wanted to know if I was making a film," he said chuckling. "I told him he would not he doing anything like that and he agreed immediately to play a truck driver."
Saroja Devi, the veteran of some 400 films in all southern language and Hindi (including the hit Sasural in which she starred with Rajendra Kumar) has a huge following across Karnataka and Tamil Nadu, he said. "People listen to her when she speaks out," he said. She played the principal of a school who realises that the stigma against AIDS had caused the boy's education.
"She had one request," Sivan laughed. "She wanted the credit titles mention the national civilian recognition she had received from the government."
Bharadwaj said he had to learn a lot of things about AIDS. He recalled how a domestic servant who had contacted AIDS was let go many years ago in a family he knew well. "Today, some of us would think twice about doing anything like that," he said.
Photographs: Getty Images