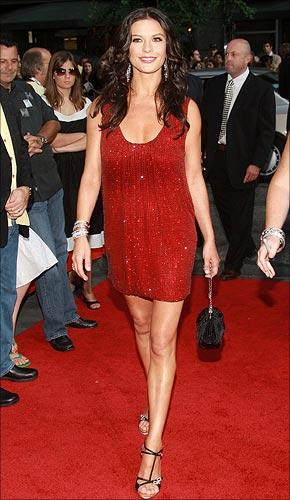 Catherine Zeta-Jones revealed that she got back her svelte look after her pregnancies through a combination of healthy eating and a rigorous exercise regime.
The 37-year-old, who once admitted that reducing after giving birth would be hard, featured in the InStyle magazine showing off perfectly toned legs and a trim midriff.
The actress has to be extra cautious now about her fitness regime as she is playing role of a New York chef in her latest film, No Reservations.
'I have to drag myself to the gym like everyone else,' Daily mail quoted Zeta-Jones, as saying.
'But I do eat sensibly and have lots of chicken -- although if I could eat only three foods for the rest of my life, it would also be smoked salmon sandwiches with potato chips crunched inside and fish and chips if I did not put on weight,' she added.
She also revealed that she indulged in her favourite sandwiches while carrying Dylan, 7, and Carys, 4.
Text: ANI | Photograph: Getty Images