Aneek Dhar is a deserving winner. He is definitely more versatile than the others in Zee Sa Re Ga Ma Pa Challenge and deserves all the success and adulation he is getting.
He is sensible, grounded and very intelligent. No wonder, as soon as the contest was over, Aneek removed the ring with HR inscribed on it.
However, what do you say about a man who hides his age, his marriage and his own child, lies about his love life to get some interest in himself and his movie, hides his singing quality behind some loud but good music? A man who is obsessed about himself, has a bloated ego, allows (cajoles, rather) his pupil to wear a ring with HR inscribed on it?
Give him a microphone and he becomes more a preacher of virtues and sanskar, than a singer!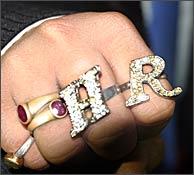 No wonder he is scared of singing in public. Remember the finals of Sa Re Ga Ma Pa! He comes up on stage with such mundane gimmicks as saying he lost the script and would speak what his heart tells him to, for a one to one connection with his fans (and he said this in many of his earlier shows too)?
In the last few weeks of watching Sa Re Ga Ma Pa, what Himesh Reshammiya did to pull Raja Hasan down shows his true traits: Insecurity, envy, greed. Is HR insecure of Raja's singing capabilities and persona? Both make high pitched songs their forte.
How do you explain HR's tirade against Raja on his age (he is nine years elder to Aneek), or as getting as lowly as seeking votes for Aneek's love (which even Aneek disputes)?
While HR talks about Raja's age, would he care to clarify when he was born? IMDB, an international web site for movies, says he was born in 1969, while HR's own web site says he was born in 1973.
The last two movies that HR scored the music for are Nanhe Jaisalmer and Aggar. Do you remember any songs from these movies? On the other hand, we have music directors Vishal-Shekhar who have given music for Om Shanti Om, Cash, Honeymoon Travels Pvt Ltd and Ta Ra Rum Pum.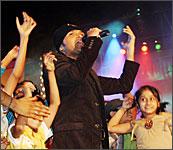 Next time you see him talking about his continuous streak of hit music, you -- and he -- would do well to remember his music in these movies too.
We all know the fate of Vineet, his earlier pupil, who has remained a singer in HR's troupe. All good songs are sung by HR himself. On the other hand, the number of upcoming singers who were given an opportunity by Vishal-Shekhar is heartwarming. Even though Shekhar is a trained singer himself, he is secure in his confidence and knows that someone else can do justice to a song better than himself.
Next, let's tackle the facade of virtues, Indian culture, sanskar. His personal life is supposed to be out of bounds (age, marriage, children!). However, he has never shied away from talking about his 'real' love story and how he failed in love. His movie Aap Ka Surroor was hawked to the audiences as the Real Luv Story. Would HR care to come out with the truth?
All this, while, his wife is confined to the home (maybe out of choice, maybe) with a son, who is aged 10 years. He also spoke about how Sumedha, another contestant, is the subject matter of another love triangle. All this to the embarrassment of the parents of the girl, who were sitting in the audience.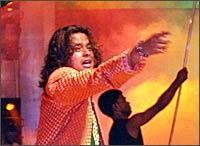 From a person like HR who preaches sanskar and family values, it sounds odd.
His success is more the result of a well-oiled PR machine and a few trade analysts that are obviously bought over. His movie Aap Ka Surroor was touted as one of the biggest successes. I have heard various comments on how it had the biggest opening.
IBOS Network, again a movie web site of repute, suggests that the AKS opening as of September 2007, was ranked at a distant 19th. And most of us know where it ended. After the initial curiosity was over, many cinema halls pulled it out in the second week itself, In fact, the collections of AKS after the first week went down so dramatically that the total gross collections for the reminder period were just about half of the first week's collections. Besides, AKS, as a movie, collected one-fifths of some of the biggest grosser in Bollywood.
So what has the great SaReGaMaPa thrown at us? Aneek, Raja, Amanat, Vishal-Shekhar are all winners. Looking at the great Ismail Darbar, I pray to god that no one who has attained great heights should fall from that pedestal.
Himesh Reshammiyya, definitely a loser.