Amara Karan is fast becoming famous across America as the actress who banned her London-based mother from seeing her in The Darjeeling Limited thanks to the scorching kissing scenes in the art-house hit.
'Don't Look, Mom,' was the headline of a news item on her in The New York Post. "If she were to see all those kissing scenes, she would be horrified," the actress, who makes her movie debut in the film, says. "Like most mothers from Sri Lanka or India, she is very conservative."
Amara may have a longer list of relatives in the United Kingdom, India and Sri Lanka who would be warned to stay away from the film. As for her father, the actress shrugs her shoulders and says: "I am estranged from him."
She is also described in the tabloid press in America as the 'British Hottie.' And she could make a sizzling copy in Britain's notorious tabloid press when the film opens there in a few days.
Amara, who studied political science and finance at Oxford University did quite a bit of theater during her student days but went on to a budding career as an investment banker.
"But acting seemed to be my destiny," she says explaining how she came to join a drama school in London even as her bosses were expecting to do very well in banking.
She grew up in London with her original last name, Karunakaran. "I let people know I am a Tamil," the 24-year-old actress, says. "But the name Karan suits me as an actress."
She plays a train steward in the Wes Anderson-directed film, The Darjeeling Limited, and has been getting good reviews. 'Karan makes a strong impression as the sexy, sweet lime girl,' declared the influential trade publication, Variety.
The Pulitzer Prize winning critic Roger Ebert saw the kissing sequence as a smart plot twist.
The film 'avoids obvious temptations to exoticism by surprising us; the stewardess on the train, for example, speaks standard English and seems American,' he wrote. 'This is Rita (Amara Karan); she comes round offering them a sweet lime drink, which is Indian enough, but later when Jack (Schwartzman) sticks his head out a train window, he sees her head sticking out, too, as she puffs on a cigarette. Soon they are in each other's arms, not very Indian of her.'
Amara would readily agree with Ebert's assessment. 
"In terms of what is expected of Indian actresses, my role may surprise some people," she says. "But that is what I like about this character. She lives outside the box but she is not a shallow character. She too has feelings and she is hurt in the end by the whirlwind affair with a stranger."
She might have wondered at one time, if Rita could look unconventional and bohemian to some people in India and Indians abroad.
"I wondered whether she was a fantasy figure," she muses in New York during a promotional tour for the movie in a handful of American cities. "But as I met with a lot of people in India during the shooting sojourn, I saw so much of diversity in the big cities. I saw people who had something of Rita in them.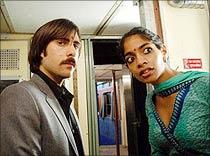 "What also intrigued me about Rita is the fact she's not your standard Indian stewardess or standard Indian girl," she explains. "It was fun and challenging to play Rita, but it was also important to me that the role doesn't fit any cliché."
She adds: "For someone like me, who is just starting her career, this was heavenly. I saw Rita as a smart person who is tired of doing this monotonous job on the train," she muses. "When she sees the three brothers and watches Jack (Schwartzman) looking at her, she thinks he could be a gateway toward a more exciting life. She is intrigued by these seemingly eccentric, young and sprightly brothers. They are full of life and energy."
The film revolves around three estranged brothers, played by Owen Wilson, the Oscar winning Adrien Brody and Schwartzman, who visit India on a pilgrimage, hoping to cast off the evil tension between them and bond  with each other again.
The film, which in its second week in America was showing in 19 theatres, has grossed an impressive $800,000 in 10 days. Its real fate would be known by late October when it would be playing in 800 theatres. It will be shown at the London Film Festival this month and will be rolling out across the United Kingdom in late October and early November. 
"I am eagerly waiting to see it with my friends in London," Amara says, especially the friend who taught her to smoke.
When she was called for the first of many auditions, she had barely an idea what Darjeeling Limited was about. "But I knew I had to wear a sari," she says, chuckling. After a few auditions, she was told she had to go to Paris where the director had been holing up for months working on the preliminary script with his buddies Schwartzman and Roman Coppola.
"I knew I had reached a serious stage," she says. She had by then received the script and had signed the confidentially agreement. "I knew then Rita smokes in the film," she remembers. "Now, I am not a smoker but I have friends who smoke. And I got them to help me practice smoking."
During her chat with Wes Anderson, Amara casually tossed a cigarette into her mouth and started smoking. "I am sure it must have looked really spontaneous," she says. Anderson did not waste any time before asking her if she would come aboard.
She hopes that she won't have to chain smoke again. "I have not touched a cigarette since the shoot was over," she says.
"The first person I called her to say that I got the part was my agent in London," Amara says. "She was the only one who knew right from the start that I had been auditioning for this film. I did not want to tell anyone else because I was afraid they would ask me every second week if I had got the part. That would have created more tension."
Apart from studying acting at a drama school, she also prepared for a movie and stage career by producing a short film By Myself a few years ago. "It was like I was doing everything in it," she says, adding that she wrote and directed the five-minute film. And she had appeared in a few television shows playing fleeting roles.
What were her toughest scenes in The Darjeeling Limited?
"The physical scenes, of course, " she says chuckling.
Some of the scenes were shot in a train toilet which was not particularly clean. "I was apprehensive and tense," she says. "But Jason (Schwartzman) has been around for many years as an actor and he has done variety of roles. He made me feel comfortable."
In another scene, she has to deal with a live snake. "I almost fainted," she confesses. "I am very squeamish when it comes to snakes, like most people I guess. But Wes told me, Rita would not behave the way you do. Think you are Rita, he said, and you will be alright."
Amara is now looking for more challenging roles. "But I wish I could soon play the lead roles," she says. "Being in a lead means that you have so much of power, and you are able to take up more responsibilities. You are also learning things faster, especially when you have scenes with established actors."
She will be also seen in December in St Trinian's, a comedy about rebellious -- and in some ways wayward -- schoolgirls.
"I thought Darjeeling Limited was a gift from the gods," she says chuckling. "But this film was an even bigger gift because I play a character called Peaches. Here am I, of South Asian origin, playing a colourblind role. That itself was a stimulating challenge."
She won't mind her mother seeing her in the second film, though her mother has been hoping that Amara might lose interest in doing films and return to her banking job.
Amara's photograph: Paresh Gandhi