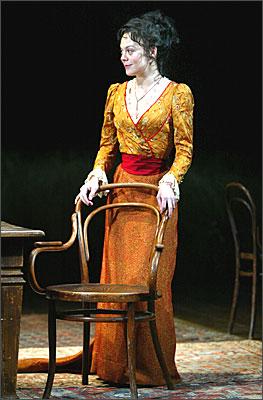 Casting has been completed for Harry Potter And The Half-Blood Prince -- the much-anticipated sixth installment of the film franchise.
Daniel Radcliffe, Rupert Grint and Emma Watson will reprise their roles as young wizards Harry Potter, Ron Weasley and Hermione Granger, facing new challenges and dangers in the wake of Lord Voldemort's return.
They will be reunited with returning Harry Potter cast members, including Helena Bonham Carter, David Bradley, Robbie Coltrane, Warwick Davis, Tom Felton, Michael Gambon, Alan Rickman and Maggie Smith.
The latest Potter offering boasts new key characters including Jim Broadbent, who will play Potions Professor Horace Slughorn. In the book, Slughorn gives Harry an old Potions textbook that had once belonged to the Half-Blood Prince, and proves invaluable to the young wizard.
Award-winning actress Helen McCrory (seen here) will play Narcissa Malfoy, mother to Draco Malfoy and sister to the evil Bellatrix Lestrange.
Nine-year-old Fiennes Tiffin will play the role of the young Tom Riddle at age 11, while 16-year-old Frank Dillane will play the teenage Riddle, who is already on the path to becoming the evil Lord Voldemort.
They join 20-year-old actress Jessie Cave, who landed the role of Ron's love interest, Lavender Brown.
David Yates, who directed this year's summer blockbuster Harry Potter And The Order Of The Phoenix, returns to direct The Half-Blood Prince.
According to E! Online, the sixth film in the franchise has already begun shooting at the UK's Leavesden Studios.
'I am really excited that David Yates and all our cast are back for the sixth film and welcome some wonderful new additions to our ensemble,' the Daily Snack quoted Jeff Robinov, Warner's president of production, as saying. 'We all share a commitment to Jo Rowling and to Harry Potter fans around the world to keep making these films the best they can be and, as we head into the final instalments, I can promise that this level of commitment will not waver.'
Harry Potter And The Half-Blood Prince is due to release in November next year.
Text: ANI | Photograph: Getty Images