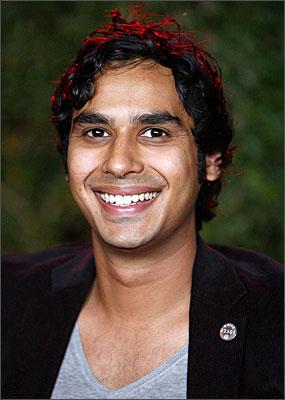 Kunal Nayyar, who plays a nerdy scientist so afraid of women that he can't even speak around them in the popular television show The Big Bang Theory, owes his role to an intriguing play about sex and identity that caught the attention of Los Angeles critics a couple of years ago.
He played an Indian engineering student in Huck and Holden, attending college in America, where he's expected to live the straight and narrow -- allowing, perhaps, for his one indulgence, Hawaiian pizza -- before returning to an arranged marriage in India. Along the way, however, he gets stuck with a Literature class assignment to compare Huckleberry Finn and Holden Caulfield, the young male rebels in Mark Twain's and J D Salinger's most famous novels.
In one interesting scene of miscommunication, he goes to a library to track down a seemingly elusive book with the name Huck and Holden -- which, he discovers, is actually the title of his school assignment.
Nayyar has been intrigued by theatre and films from his childhood in England, and then in India. Acting is his passion, he says but so is writing plays. His first serious effort at writing was Cotton Candy, which was staged in New Delhi recently.
'Ever seen Cotton Candy?' one of the characters asks in the play. 'The wheel turns and then suddenly from nowhere strand after strand merges to become this delicate white... you bring it to your lips and it melts away into nothingness, leaving you with its sweetness. That's what love is like. It comes from nowhere, unannounced... You can't make it happen. And it doesn't remain... It's all in a moment and I couldn't bear to let that moment pass.'
Nayyar, too, could not let the moments pass as he kept focused on writing and acting while pursuing a 'safer' profession, he says.
Nayyar, who moved to America upon graduating from high school, majored in business at the University of Portland in Oregon to fulfill the immigrant dream of his family. But even while studying business, he was taking many acting classes and appearing in plays produced at the school.
When he was invited to the American College Theatre Festival, his acting ambitions took a firm hold of him. He won the Mark Twain Award for comic brilliance as well as a fellowship to the prestigious Sundance Theatre Lab at ACT. He then pursued his education at Temple University in Philadelphia, where he earned his master's degree in fine arts. Nayyar then got a challenging part in Huck and Holden, written by Rajiv Joseph.

The Big Bang Theory is his first as a regular on a television series, following small guest appearances on NCIS. He is currently writing his first feature film.