Farah Khan likes her films to have everything -- drama, dance, dreams, dishoom-dishoom, dudes, dhoom-dhamaka etc
Perhaps her vast experience as a choreographer has taught her to view everything in concurrent rhythm. This quality which was unmistakable in Main Hoon Na gains further prominence in Om Shanti Om.    
OSO begins in the seventies where we are introduced to the starry-eyed Om Prakash Makhija (Shah Rukh Khan). An actor by profession, Om jives on a giant compact disc, a la Rishi Kapoor, to the beats of Om Shanti Om in Subhash Ghai's Karz, (which incidentally, involuntarily, influences the outline of the film's actual story).
A few reels later, he's sporting a dacoit's moustache and screeching 'Bhaaaago' to a crazy mob dispersing in various directions.
Some more reels later, he slips into red leather to essay a self-styled cowboy, Quick Gun Murugan mouthing multiple 'Mind its' whilst tackling a seriously stuffed tiger prop.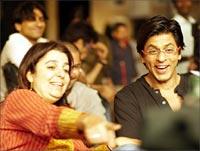 During these various cuts and takes, he rescues the heroine from a fire mishap (just like Sunil Dutt saved Nargis on the sets of Mother India), has dreamy conversations with 'Dreamy Girl' film posters and finally takes her on a marvelous studio date against the backdrop of resplendent sets and cutting chai served in wine glasses. Om's best buddy, Pappu Master (Shreyas Talpade) pitches in as the butler.
Confused? There's a glitch. Om Prakash is a 'junior' actor by profession. That, however, doesn't deter a smitten Om from gallantly pursuing his lady love and Bollywood's top heroine, Shantipriya (Deepika Padukone). Just when you think a Raja Hindustani moment is around the corner, cunning producer Mukesh Mehra (Arjun Rampal blended into a mix of Ranjeet and Prem Chopra) steps in to spoil the party.
Obviously, something goes wrong. What? We won't tell you. Except sidekick Om Prakash Makhija is reborn as superstar Om Kapoor (SRK) to settle old accounts with his adversaries from past birth. While Sandy (Padukone again) becomes the new face of old timer, Shanti.
Does that mean you should go and watch OSO? Absolutely!
The film celebrates everything the eclectic seventies represent -- stars, colours, madness, implausibility, fantasy, music (Vishal-Shekhar's soundtrack is as rocking as it gets), romance, camaraderie, grandeur or simply put -- masala. Even the all-in-good-fun jokes cracked at Govinda, Manoj Kumar, Rajesh Khanna and Sooraj Barjatya's expense are executed with taste in addition to cheek.
In fact, time-travelling to the 70s is so much fun; you almost hate to see 'Interval' pop up on screen. And that is one of the reasons why the contemporary second half requires welcome gimmicks like SRK's six-pack or gazillion film stars (from Dharmendra and Karisma Kapoor to Salman Khan to Kajol) showing up in a song sequence or Abhishek Bachchan (for Dhoom 5), Akshay Kumar (for Return of the Khiladi) and SRK (for Phir Bhi Dil Hai NRI and Main Bhi Hoon Na) furiously competing for a Best Actor Filmfare trophy at an awards function.
Speaking of Akshay, if there was some award for Best Performance in a 30 second cameo, he'd win it in a jiffy. He's first-rate, really!
Those are the compliments reserved for film's technicians as well. The screen is a sight to behold when art director Sabu Cyril's lavish imagination is paired with cinematographer V Maniknandan's luminous camerawork. The latter especially brings out an ethereal quality to newcomer Deepika Padukone's intrinsic beauty.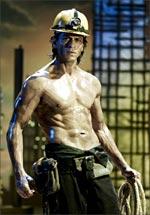 While she doesn't have much to contribute in the histrionics department, Padukone delivers as an exceptionally attractive and everyman's celluloid fantasy here. Give her five films and she'll be playing her 'numero uno' character real time.
Villains have never been menacing enough in Farah's movies. Be it Suniel Shetty's long haired terrorist in Main Hoon Na or Arjun Rampal's silver streaked businessman in OSO. Rampal's persona exudes too much warmth to pass off as a cold-blooded antagonist. Others like Shreyas Talpade are expectedly endearing but wasted while Kirron Kher exaggerates the filmi mom with palpable pleasure.
No, I have not forgotten Shah Rukh Khan. How can I? No one could have played Om other than him. He does exactly what a seventies superstar in a Manmohan Desai film would. Grab the viewer by his collar and make him a part of Om's unbelievable highs and impossible lows. He is the 'hero', super-hero; actually, if you count his turn as Mohabbat-Man.  
But by all means, Farah is the hard working heart and soul of OSO.  Every scene details her enthusiasm and knowledge for/of the movies and not just the specific era -- the seventies, around which it is centered. Here and there, we spy special tributes to the mystery and magic of classics like Madhumati, Gone with the Wind, Titanic and Maine Pyaar Kiya.  
For all the grand entertainment it offers, OSO is also a zany study of the 70s film making in terms of style, attitude and values.
The spirited filmmaker puts Shah Rukh Khan and his finances to skillful use with this visually spectacular, cleverly orchestrated and star-studded reincarnation saga.  Her chemistry with SRK and their combined ability to both humour (watch out for the Apahij Pyaar episode) and worship (a stupefying climatic twist) this extraordinary medium of make-believe makes for a delightful entertainer.
The idea of watching a massively-promoted Diwali release is to come out of the theatre feeling entertained. And for just that alone, Om Shanti Om definitely scores.
Rediff Rating: