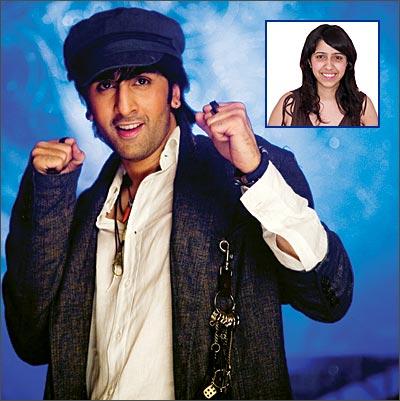 We asked readers to tell us if they had grown up or studied with movie or television celebrities. And we got a great response!
Sharing her memories is Ayesha Devitre, who studied in the same school as Ranbir Kapoor.
Also read: I studied with...
Mallika Sherawat | Sushmita Sen | Vidya Balan | Madhu Sapre | Shamita Shetty | Aishwarya Rai | Celina Jaitley | Shah Rukh Khan | Sakshi Tanwar Shahid Kapoor | Isha Koppikar | Sonu Nigam | Anil Kapoor | Ajay Devgan | Shaad Ali | Kareena Kapoor | Aditi Gowitrikar | Twinkle Khanna | Hema Malini
Good-looking, ambitious, hard-working, shy, generous, sweet -- that's Ranbir Kapoor. But to me, he's all that and more. Thinking of him brings a smile to my face while being with him makes me laugh.
I've known Ranbir for 17 years so to me, he's family! We've practically grown up together and studied in Bombay Scottish School, where the two of us would constantly get ourselves into trouble. He was 'filmy' right from the day he was born. He would dance on stage during Christmas concerts and always participated in drama competitions. He would even incorporate  movies into academics -- every essay in his English grammar paper would be an entire Hindi movie screenplay summarised!
Ranbir was also a little bit of a shehtaan -- he played a million pranks, getting caught each time! He would steal my dabba and eat it for breakfast. He would also emotionally blackmail me into doing all his school projects. And he would study only two days before an examination and still pass each time.
His idea of fun is to watch a Malayalam channel on mute while he would come up with his own dialogues. He also plays 'Stone, paper, scissors' with himself in the mirror so that he never loses!
But for all his craziness, Ranbir takes a lot of time to open up to people. He's extremely shy and reserved, but once you've entered his comfort zone you're there to stay. He is a child at heart and I guess that's what makes him so endearing.
Now, when I look at the promos of Saawariya, I feel so proud of him. To the world, Ranbir's an upcoming star but to me he's already a winner. He's my star!
Grew up with a star in the same neighbourhood? Studied with them in school? Had a star friend in college? Hung out at the canteen together? Bunked classes? Maybe even hit on the same pretty people?
What were they like? What did you think of them then? Did you ever foresee their success?