It is not every day that
Sanjay Dutt
plays you on screen, and former Indian Police Service officer
Aftab Ahmed Khan
seems quite pleased about it.
Dutt plays Khan in Apoorva Lakhia's Shootout At Lokhandwala, which is based on a 1991 encounter in Mumbai.
Also starring Vivek Oberoi, Abhishek Bachchan, Suniel Shetty, Tusshar Kapoor and Arbaaz Khan in major roles, the film tells the story of how gangster Maya Dolas (Oberoi) and his accomplices were gunned down in a police encounter in Lokhandwala Complex in Mumbai's suburban Andheri area.
Khan also makes his movie debut -- he plays S Ramamurthy, his former boss and the then police commissioner, in this film.
Shooting gangsters and acting in films may be different things but Khan says he was comfortable doing both. "It was a great experience to work in a film, which I was closely associated with in real life," he says.
"I did not give retakes in most of the shots," he continues. "Director Apoorva Lakhia was very cooperative; we had a great team."
The shootout, which took place on November 16, 1991, made Khan one of the city's most recognised police officers.
Recalling the shootout, he says, "Maya was abusing me a lot when we went to capture him. I asked him to surrender, yet he abused me nonstop. He had escaped from police custody earlier and had created fear in the minds of people."
"It is through films that people know about the lives policemen lead," Khan says. "I am happy to be a part of a film that highlights the lives of policemen and the problems they face while doing their duty. Appreciation from people is the biggest high a policeman can get in his life."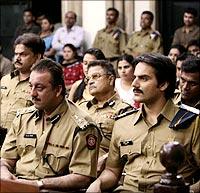 Though the encounter involving Dolas -- a henchman of fugitive gangster Dawood Ibrahim -- made it to the headlines, Khan says he has faced worse situations as a police officer.
"I have had many encounters with gangsters but the Lokhandwala shootout became big because of the media," he says. "The most dangerous event of my life was the encounter killing of Khalistani terrorists in 1992. But that was never highlighted in a big way. Those terrorists were trained in Pakistan and it was a challenge to kill them."
While the Lokhandwala shootout made Khan wellknown, he later faced criticism about the way he handled the 1992-1993 Mumbai riots under his jurisdiction. The Bharatiya Janata Party and the Shiv Sena protested what they alleged was his partisan attitude towards their workers in the riots.
In 1995, when the BJP-Shiv Sena government came to power in Maharashtra, Khan was transferred to Nagpur.
"I decided I should quit the police force rather than sit and do nothing," he says. "I had six years to go before retirement but I found I had no work and was given an insignificant posting."
After Khan retired he set up a security agency in 1996, which his son now runs. Khan does consultancy from time to time.
Some critics once alleged that Dolas was killed in a fake encounter when he was about to surrender. Others alleged Dolas was killed at Ibrahim's behest.
Ask about the allegations and Khan gets annoyed. "This is a sick attempt to malign my achievements," he says. "There were some mischievous elements in the press who highlighted this issue. There was no truth in it, therefore this allegation died a natural death."