K Vijayabhaskar was so impressed with the Malayalam movie Classmates that he went ahead and made a Telugu remake of the same name.
The director, whose body of work includes Nuvve Kavali and Nuvvu Naaku Nachav Manmadhudu wanted something different and challenging, and believes that the film fit the bill perfectly.
Radhika Rajamani met with this filmmaker of Jai Chiranjeeva, starring megastar Chiranjeevi, for a conversation about his version of Classmates. Excerpts:
What prompted you to do Classmates?
I was spellbound by the Malayalam film. I was in Kerala with producer 'Sravanti' Ravi Kishore, scouting locations for a film when I saw it. Immediatedly after seeing it, I decided to do a remake. It had a bit of everything -- college life, romance, mystery and nostalgia.
Did you feel the storyline would be something new for the Telugu audience?
Yes. I liked the new form of narration. I always make films that touch my heart.
How did you adapt the film to suit the Telugu audience?
I made some changes in the screenplay. I added some entertainment. I also changed the character of the hero (Sumanth) to some extent -- the way he walks, talks and his attitude.
Images: Now, a Telugu Classmates
Were Sumanth, Sharwanand, Sada and Komalini Mukherjee your first choice for the roles?
Yes. They had the looks to match today's age group. Sumanth has this rare quality of getting into the skin of the character. He does not overdo or dominate the character. Sharwanand on the other hand has the looks of a good boy. As for Sada, she can carry off a romantic role even 10 years later. Komalini has a certain melancholy in her face, which was necessary for that character.
Do you feel that this movie with a mystery-thriller element will be accepted by the audience?
We made the film for that very reason. I like to do something new and Classmates was an opportunity to do just that. When you make a good film the audience and filmmaker are the same (laughs). If we filmmakers connect through the camera, anybody would watch the film. People will realise the newness once they see Classmates. The word of mouth makes a difference. All my films picked up slowly.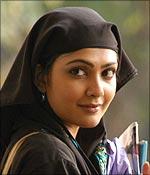 This is perhaps a rare instance of ensemble casting, as Telugu cinema is dominated by a single hero set-up. Do you feel that this would initiate more movies with ensemble casts?
Exactly. I would like to say it is a trendsetting film as far as the story is concerned. It will make people get out of this formula. Eventually, the story will be the hero.
But your magic touch did not work in Jai Chiranjeeva?
I may have gone wrong with the film. It had nothing new. It was a good story and I tried to present it with sensibility. Because it was Chiranjeevi's film, people had different expectations. I followed my style. I have shown the character and not Chiranjeevi. Perhaps people wanted Chiranjeevi. Probably the blend of character and image in Jai Chiranjeeva went wrong.  
Telugu cinema is caught in a commercial warp with not much experimentation in stories. Is it because the image of the hero is 'sacrosanct' or due to a dearth of stories?
One cannot zero down on one reason for this. The hero becomes a star because the films make him one. Producers tend to make a particular kind of film as it is more commercially viable. But they should not neglect the vital substance, which is the story. Doing different films is safer. Slowly people will realise there is nothing wrong with experimentation. The definition of a story nowadays revolves around one good reason for the hero to bash the villain. A change is needed.
Any new projects?
My next film Romeo and Juliet Thodu Dongalu will be with Vishnuvardhan Babu (son of Mohan Babu).