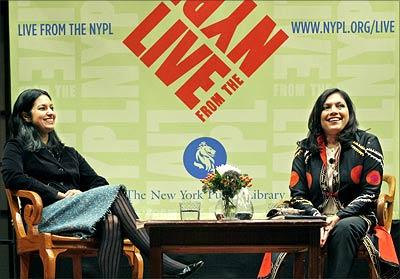 There is no way anyone who has no time for rehearsals can work in my film," said
Mira Nair
, as she discussed how her casting plans for
The Namesake
had changed radically.
"The only person who remained constant was Irrfan Khan," she added.
The director, in conversation with writer
Jhumpa Lahiri
-- who wrote the novel Nair's latest film is based on -- addressed a packed to capacity (over 500 people) hall at the New York Public Library.
If only Rani Mukerji had made time for the rehearsals, she would have been a part of the film's cast, it was revealed.
Rani's part
went to
Tabu
, who is getting glowing reviews across North America for her performance as a beleaguered immigrant wife and mother.
The film had just released in the United States when the Nair-Lahiri event took place. It was in six theatres in its opening weekend in America and Canada, and garnered a strong $250,000.
In its second week, it was showing in 41 theatres, and its two-week gross reached $1.3 million, an excellent sign for an art-house film.
Now the film is in 100 theatres. There will be more expansions and the theatre count could reach 450. 
Nair said the film also pays tribute to New York and Kolkata.
"I saw it as a portrait of these cities," she explained, "as well as an adult story between two strangers, Ashoke and Ashima, married and who come to this country, find themselves and then fall in love.
"The movie was also inspired by Bengali filmmakers like Satyajit Ray who made movies with such beauty, sweetness and economy in the Apu trilogy," she continued.
"For me, Kolkata was a formative city while growing up. I grew up in Bhubaneswar. I used to travel 300 miles to Kolkata, for 8 to 12 summers, to my mamaji. I learned to play cricket in Kolkata, but more than anything, I learned to read Badal Sircar and watch plays written by him for street theatre. 
"I had this interesting relationship with this city, especially as a kid who was not Bengali," Nair continued. "I lived in Alipore with the whisky-drinking Punjabis. But in the morning, I would take the bus to go to an intellectual life for 8 to 10 hours every day and then return to cocktail parties at night. It is a joke in India as one of those stereotypes, that the Punjabis were considered the philistines, agricultural people of India and the Bengalis, the intellectual. So, never should a Punjabi understand a Bengali; but here I am!"
Nair asked Lahiri what she thought of her (Mira's) ideas on turning the book into a film.
"I remember that time vividly," Lahiri responded. "I was pregnant with my second child, my daughter, in 2004. I was so thrilled that Mira had read the book. We had met only once or twice before that, casually. But beyond that, I had known of her work and vision for a very long time since I was in school at Barnard College in New York. I remember going to see Salaam Bombay! getting on the train with my mother and sister who were visiting from Rhode Island. 
"She (Nair) represented someone who was struggling to understand both who I was and what I might attempt to write about one day," the author added.
Lahiri had begun writing The Namesake in 1996, gave up on it and started it again, and had it published over three years ago after her first book, The Interpreter Of Maladies, won the Pulitzer Prize. 
"It took seven long, often interrupted, sometimes frustrating years (to complete The Namesake)," Lahiri said. 
"So, by the time Mira and I met to talk about the movie, not only had the book been out for six to eight months, it felt distant in many ways," the author continued. 
"That's generally how I feel, a complete form of separation when I come to the end of anything. I think that's important for me to move on to the next thing.  Also, because there was a lot going on in my personal life: I was a mother, I had a small son, and I was pregnant.
"Mira had actually experienced loss as she had recently lost her mother-in-law," Lahiri added about the 80-year-old lady who had come from East Africa for a surgery and died.
"I had no sense of losing a parent or parent-figure at that time," Lahiri, in whose book the sudden death of Ashoke causes upheaval and reconciliation, continued. 
"But I was watching what it was like for my parents to lose those dear to them in another country. More importantly, I was just coming to the age I saw my parents' friends lose someone close to them to a heart attack and cancer."
Nair had read the book on her way to India to shoot a few scenes for Vanity Fair, and immediately decided to turn the book into a film.
"I also felt that Mira represents something between the two generations that I write about in the book, the generation of Gogol and Ashoke-Ashima, which is immediately related to my own experience," Lahiri said.
The writer came with her family from London when she was little, and has lived in America for over three decades since then.
As much as Nair also wanted to portray -- as the book did -- America-raised Gogol's alienation from his parents and then the painful reconciliation, she also "really wanted to make a love song to the generation of Ashoke and Ashima," Mira confessed. 
"It is so rare that their generation, like our parents, I have not yet seen this kind of ideal people who don't perfectly fit into the image of public proclamation of love.
"It isn't about Valentine's Day," she continued. "It isn't about roses and diamonds, but it's about how I used to see my own mother-in-law and father-in-law sitting at the dining table, and having a cup of tea and living in that moment with each other completely. I really wanted to try and achieve that in contrast to Gogol."
A reader in the audience wanted to know how much of an input Lahiri had in the screenplay that Sooni Taraporevala and Nair wrote.
"I asked permission from Jhumpa for the book only once and did not ask again," Nair asserted. When the completed script was shown to the writer, she only suggested two minor changes, the director recalled.
"I cast Jhumpa and her baby in a small role; and also 20 members of her family both here and in Kolkata," Nair revealed. 
"Her grandfather's paintings in the book were actually hanging in her parent's home in Rhode Island. I loved those paintings and asked specially if I could use them in the movie. I really wanted The Namesake to be about Jhumpa's family," she added.
"People have asked me how the movie made from my book will change the way I write," Lahiri mused. "Will I write with an eye towards my book being made into a film? The answer to that is that my work as a writer is strictly to write fiction. That is all I am concerned about and I have my hands more than full. It's all about storytelling, regardless of the medium."
Among the many challenges she faced was giving the film the kind of ending that would be life-affirming, Nair said.
"The challenge we had was how to create a scene that is appealing to the audience. That life is ahead of us, that Gogol has to move on as opposed to, 'Oh my God, what are the trials and travails of our life!' As Jhumpa writes, 'What are books but for travelling the world without moving an inch.' 
"I wanted that feeling in the movie," Nair added. "And that's an important lesson for Gogol: See the world. I think America needs that lesson badly!"