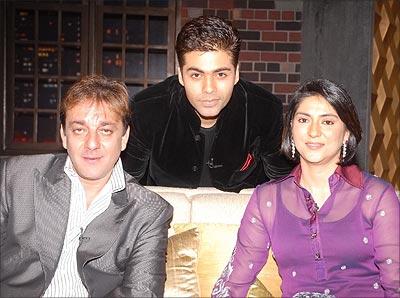 This week, Koffee With Karan may see an emotional episode, with Sanjay Dutt, sister Priya and daughter Trishala coming together on camera for the first time.
Sanjay opened his heart out on the show, talking about how he coped with personal crisis like losing his parents, quitting drugs and spending 18 months in jail.
He spoke proudly of Trishala, who is studying Forensic Sciences in the US, and jokingly added that her compulsive shopping habits worry him.
Here's a sneak preview into the show, where Sanjay also talks about his recent 'marriage.' Read on:
Karan: The kind of life you've had, I think books are written on such lives. What do you have to say about what you've been through?
Sanjay: Karan, I don't regret anything! All I can say is that losing my parents, quitting drugs, going to prison, if I sit and sulk about it I wont be moving on in life. So you should keep it at the back and you should learn from it.
Karan: All the years you spent in jail, the very thought is scary. Even spending one day in jail personally scares the living daylights out of me. How many months were you in jail?
Sanjay: 18 months.
Karan: When you look back at that 18-month phase, what is the one thing you learnt out of that experience which you can share with us?
Sanjay: Karan, it's just to be humble. It humbles you down and makes you realise how important freedom can be, which all of us take for granted. You know, freedom is taken for granted. When it's taken away, you realise how important it can be. I think God had a plan to send me there and to just humble me down, cool me off and that's what's happened exactly.
Karan: Did you need that cooling off?
Sanjay: At that time, it didn't feel like I did. But now when I look back, it has made me a humble person.
Karan: Did you feel answerable to people? Did you feel you were being judged on certain occasions?
Sanjay: Absolutely! I felt I'm being judged. And I have to answer and have to clear my name and the name of the family.
Karan: Is there a love? Is there 'one love' of Sanjay Dutt's life he's never gotten over?
Sanjay: One love of Sanjay Dutt's life! (Laughs) I've had a turbulent past with the loves in my life.
Karan: When you look back, you just savour every relationship but you don't feel that you fell in love that one time and maybe nothing came out of it.
Sanjay: The problem with me is that I fall in love all the time.
Karan: You fall in love far too often?
Sanjay: Far too often!
Karan: Are you in love today?
Sanjay: No.
Karan: No? So all these rumours about your alleged marriage are all...
Sanjay: All rubbish! I came on TV and denied it also. There's no marriage. We're just friends.
Karan: When you look back at all these 13-14 years, what has your reflection been to all this?
Priya: I think we've come out of it pretty strong. My father always used to tell us it will pass. What we're going through will pass. There's always light at the end of the tunnel. You have to fight. You have to face whatever you have to. I think that's what our resilience is. There are times when we feel everything is going so well in the family, what's going to happen next. You know there's a calm before the storm. We've got so used to that!
Karan: Though you're his younger sister, there are times that you must have wanted to plonk him on his head and ask what are you doing! There are times you want to beat him up?
Priya: Yeah, there are times! I think there are times I lose my cool and you know. I think now, that whole age difference doesn't exist. I think all of us have always been very protective about him.
Karan: That's the vibe he generates in the industry as well. That's why he is called Sanju Baba!
Priya: Yeah, I guess so! Everyone who knows him is protective about him.
Watch Koffee With Karan on Sunday, March 25 on Star One and Star World, at 9 pm.