The country's highest-paid film star is also its most famously reclusive one. Rajnikanth's latest blockbuster Sivaji: The Boss released this weekend across 760 screens to hysterical audiences as India's most expensive film.
Preceding its box-office debut, the lead actor addressed his fans from Tirupathi, prints were carried on elephant-back accompanied by a traditional band in Kerala's Sultanpetta to the local Vadakkunthari temple to be handed over by the priest to the theatre manager, and bookings closed a record three weeks in advance.
Star-struck fans flew from across the globe for the screenings for which companies like software giants TCS and Cognizant had blocked seats. The serpentine queues at cinema halls was akin to that of waiting for darshan at a deity's sanctum sanctorum.
At the centre of this mass adulation is an actor known less for his histrionics than his ability to spin cigarettes in the air, split bullets into two and flip his sunglasses in a way that appeals to frontbenchers.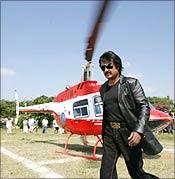 Yet, the 57-year-old thespian of southern cinema commands audiences that would be the envy of Amitabh Bachchan or Shah Rukh Khan. He does one film in two years, is perversely reclusive, has an unexplained following in Japan, and has been churning out hits with regularity. Famously, his roles have remained the same -- the hard-drinking, hard-smoking, street-smart anti-hero who plays an impossible 20-something in his films.
Inexplicably, South India's greatest star, and possibly Asia's second-highest paid actor after Jackie Chan, is Marathi by birth and started out as a bus conductor. Shivaji Rao Gaekwad -- popularly known as Rajnikanth, or Rajni -- whose Sivaji opened on Friday with breakthrough technology being used for the first time in India, has rewritten the rules of celluloid history.
Not only is Sivaji AVM Productions's most expensive film, it has given the star a lighter skin tone in the film. Costume designers from Bollywood, including Manish Malhotra, were specially flown in to create costumes for the actor. French hairstylist Sandrine Verrier Seth worked on different hairstyles to make him look younger.
Completed over 18 months, Sivaji's Super 35 format makes the cinemascope broader and provides a panoramic vision to the viewer. But the technology and razzmatazz has come at a cost -- AVM isn't ready to share how much it has spent, but estimates vary between Rs 60 and Rs 80 crore -- that analysts would normally find difficult to justify.
Yet, the film is not just likely to recover its costs, it could end up making a whooping Rs 150 crore in the first three weeks alone. And Rajni is using the hysteria around Sivaji to promote his next film, Sultan: The Warrior, in the form of a 45-second teaser in screens screening his film.
In fact, Adlabs is producing its second animation film based on the character of Rajnikanth, the first-ever animation film to be made on a film personality. Being made in Hindi, Tamil, Telugu and English and directed by Rajnikanth's daughter Soundarya, it is likely to be the most expensive animation film ever made in India.
Also, Hutch-Essar has tied up with AVM on an exclusive deal that includes caller tunes, wallpaper downloads and even contests around the movie. "It's the biggest deal we have done in a regional language around a movie," says a senior executive.
In a record of sorts, 20 percent of Hutch subscribers in Tamil Nadu have downloaded one of the songs from the movie as their caller tunes.
For a mega-movie, Sivaji has spent very little on marketing and promotions -- the 1.5 million fans in over 15,000 fan clubs across the country have done that through word of mouth themselves. In AVM's Rajeshwar theatre, the Rajnikant Fan Association has already booked the cinema hall for three days.
Of Sivaji's 760 prints, 300 have been released in Telegu, 303 in Tamil, 145 have been reserved for foreign shores, and 12 for North India. It is this dichotomy that is hard to understand. For the vast majority of north, west and east India's cinema audiences, Rajnikanth's name rings few bells.
Yet, filmmakers dream of working with him, distributors swear by him, co-actors find it hard to match his screen presence, and frenzied fans refer to him as 'thalaivar' or leader. Though he starred in 1980s Hindi films alongside stars like Amitabh Bachchan, Rekha and Sridevi  -- and an aberrant Hollywood film, Bloodstone -- he made no inroads into Bollywood's popular culture.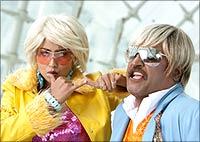 Yet, "he is a complete star," says film analyst Taran Adarsh, "So why should he play the numbers game in Bollywood when he was already a major hit down south?"
Ravi Chopra, managing director of BR Films, insists, "It isn't that he was a flop in Bollywood, it's just that he has his own unique style of acting and dialogue delivery."
Like Adarsh, Chopra finds Rajni the quintessential entertainer, "a total legend whom no star comes close to".
Many compare him with Amitabh Bachchan: after all, he has starred in several remakes of Bachchan films, among them Don and Laawaris, yet he gets paid nearly three times what the Big B gets. Even in non-southern markets like Mumbai, Sivaji has created records, opening at PVR Cinemas with seven shows at two of its properties and '75 percent advance bookings' over the weekend.
Surprisingly, PVR isn't the only theatre chain that has witnessed such a response. Adlabs, Cinemax India and Inox are all in the race. Cinemax India, which is running eight shows across four properties in Mumbai, expects to earn over Rs 6 lakh over the weekend. "We are hoping to buy an additional five prints in the second week," says Devang Sampat, vice president (marketing and programming), Cinemax India.
No wonder Rajni commands the subcontinent's highest price among actors. For Sivaji, his 100th Tamil film (he has acted in a total of 170 films), he is estimated to have been paid about Rs 15 crore, plus commissions, taking the total to around Rs 18-22 crore.
Nor does he lend himself to endorsements. In film after film, he has caricatured himself -- earlier it was through his mannerisms alone, but in recent years, it is through a clever positioning of himself vis-à-vis the supplicant politician, the political party asking him to join them, or his patriotism for Tamil Nadu.
Does he have political ambitions? There are many precedents of stars-turned-politicians in South India. Rajni -- a neighbour of Jayalalitha in Chennai's Poe's Gardens -- has provided support to political parties and issues in the past, but does not seem in any hurry to turn his popular support into open canvassing for himself -- yet.
But his punchlines from his films do contain political advice and conviction, sometimes as double entendre. He might say, "I will do what I say, I will also do what I don't say", in one film, and in another, "When I will arrive, or how I will arrive, nobody will know, but I will arrive when I ought to."
No wonder carnival-like scenes were witnessed on June 10 in Chennai when advance bookings for Sivaji opened -- and not just to suss out Rajni's latest "punch" dialogues.
With advance booking for all shows now closed, the state government directive that any film with a Tamil title cannot be sold for a price over Rs 50 in single screen theatres is suffering a huge setback (though some see it as Rajni's victory) with reports filtering in of tickets being sold in black for anywhere from Rs 500 to Rs 1,000.
Apart from Rajni, what is so special about Sivaji? The movie has assembled some of the biggest names in the Tamil film industry. Produced by AVM, one of the largest and oldest film production houses in India, it has been directed by S Shankar, who has given record hits at the box office to the lilting scores of A R Rehman.
If Sivaji's production cost have scaled new benchmarks, the sale of film rights are the highest in the industry. Abhirami Ramanathan, owner of Abhirami theatres in Chennai and president of the Chennai Theatre Owners' Association, and GV Films, has bought the film rights for the Chennai circle at a whopping Rs 6.25 crore. The film rights are distributed region-wise in other parts of Tamil Nadu.
Already, estimates are that the screening rights in theatres have been sold for Rs 60-70 crore in Tamil Nadu, and overseas rights for an additional Rs 18 crore. Satellite rights for Sivaji have been sold for Rs 4 crore to the yet-to-be-launched Kalaignar TV, a Tamil television channel being planned by the DMK in association with Chennai-based Raj Television network. Riding on great expectations, AVM Productions is expected to clock revenues of over Rs 150 crore before three weeks are out.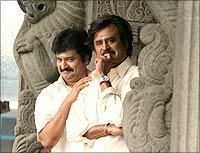 Swaroop Reddy, director, Satyam Cinemas, says the purchase price for the Chennai city rights is a record figure. For the first time in the history of Tamil cinema, a film will screen simultaneously on 18 screens in Chennai, against an average release on six-seven screens.
Satyam Theatre Complex will exhibit the film on two screens and tickets for the first 10 days have been sold out. "The response has been fabulous," Reddy says, adding that expectations in the corporate sector are also high with a number of companies requesting bulk bookings for their employees -- in vain.
Chennai-based movie theatre chain Pyramid Saimira Theatres has acquired the distribution rights for some parts of Andhra Pradesh and Tamil Nadu as well as the Malaysian market. The total exposure of the company to these three markets is about Rs 25 crore and Rajnikant is set to get pulses racing in 200 theatres.
P S Saminathan, managing director, Pyramid Saimira, says the company is expecting returns in the first few weeks and hopes to reap bumper profits. "The Rs 1,100 crore Tamil film industry is much more streamlined than Bollywood. The concept-to-finish chain is much shorter in the Tamil and Telugu film industries."
Reddy says Rajni is the most saleable actor in south India and no other star can hold a torch to him. His movies run successfully not just in Tamil Nadu but also in all the southern states.
Though Chiranjeevi is the leading star in Andhra Pradesh, he has not been able to spread his popularity across other states. Rajni is on par with top stars in Andhra Pradesh, while in Karnataka, in terms of box office appeal, he is undeniably powerful.
Popular in Malaysia, Japan and Indonesia, Rajni's movies enjoy a minimum guarantee all over the world and almost always notch up huge profits. No wonder, says AVM's CEO Babu S C, "not a single distributor backed out or had an iota of doubt about the returns on their investment."
Sivaji (and Rajnikanth) appear to be laughing all the way from the box office counters even before the projector lights were switched on. The spate of advance bookings has by itself created history in cinema-crazy Chennai.
Sivaji has beaten all previous records and could write a new chapter in the annals of the Tamil film industry. Of course, it would be a corollary to that most viewed chapter of all -- the master actor himself who once famously 'punched lined': 'My way is the unique way.'