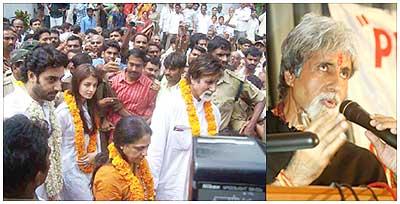 Actor Amitabh Bachchan made an appearance, along with actor son Abhishek Bachchan and daughter-in-law Aishwarya Rai, at Rai Kamineni Hospital in Hyderabad on Friday in support of the global fight against cancer. Bachchan is in Hyderabad for the shooting of Ram Gopal Varma's sequel to Sarkar.
He requested that everyone join him in this worldwide endeavour against the big C and said, "I don't smoke, nor do I chew tobacco. Globally, I am told cancer-affected patients by the year 2020 would number about 20 million, with 70 per cent of them from the developing world. I am here only for the film but when the hospital management sent word, asking if I could speak against cancer, I saw no reason why I should not," he told a packed audience. Bachchan offered a series of statistics to show how much ground needed to be covered to win the battle against cancer.
'Amitabh Bachchan was to do Mr India initially'
He was presented with a bouquet by a little girl being treated for cancer of the lymph nodes at Rai Kamineni Hospital.
Later the whole family, joined by Jaya Bachchan, offered prayers at the Sri Sailam temple, dedicated to Lord Mallikarjuna and an important Jyothirlingam about 250 km south of Hyderabad in Kurnool district.
Photographs: Mohammed Jaffer/Snaps India