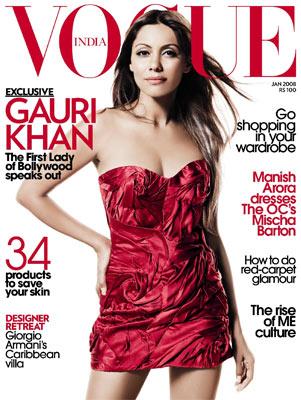 Shah Rukh Khan has every reason to preen. No, it doesn't have anything to do with his six packs. Rather, it's his wife Gauri Khan who is the center of attention.
The mother of two has been chosen as the cover girl of Vogue India for its January edition.
The pictures were shot against the eight-floor extension of the Khans' sprawling home, Mannat.
'This is not my profession,' Gauri said. 'It has to be something really new and unusual to make me want to do something like this. I did enjoy the shoot but to be honest, I wouldn't do it very often."
"This collaboration between Gauri and Vogue India is a natural fit," says Priya Tanna, Editor Vogue India. "It is her first solo cover and a coup of sorts for Vogue. That she is stylish, enigmatic, and poised is known, but at the shoot we saw another side of her, that of a cover girl. Even in the frames she shares with Shah Rukh, she holds her own impressively. She offers delightful peeks into her life, her wardrobe and her man. Gauri is a true Voguette."
The issue will hit newsstands on December 20.