A recent conversation with some visiting British producers revealed that British and American audiences do not like to 'read' movies (which means 'watch subtitled movies' to the uninitiated).
Naturally, nothing succeeds like a self-fulfilling prophecy or axiom in Hollywood so a major studio picture like Hitman, even though it is set in Russia for the most part, is peopled by characters who speak a lot of English. And the only way to distinguish the Americans and Englishmen from the Russians is by the accent with which they speak the Queen's language. So go ahead, suspend disbelief and settle in.
The plot goes something like this -- the titular hitman (Timothy Olyphant trying to channel a Bruce Willis/Vin Diesel hybrid) is hired to off a Russian politician named Belicoff (Ulrich Thomsen) whose newly adopted moderate political stance is not to the liking of certain hard-line politicians. Our man works for an organisation that, and this is where grammar takes a beating in this sentence, is called The Organisation. Not very imaginative you say? Well keep in mind, this film is based on a video game. Those lads are not big on elaborate back story, they prefer instead to place you right in the middle of the mayhem and gunplay.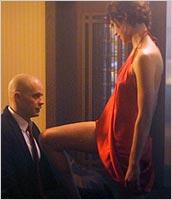 Also, Superman lived in a small town called Smallville and worked in a big city called Metropolis so it's not that much of a stretch to believe that the Hitman, or Agent 47 as he is alternatively known, works for The Organisation. Now naturally, a killer has to be chased by a cop and in this case it is Interpol agent Mike Whittier (Dougray Scott) who does the honours and goes up against a creepy Russian agent (Prison Break's very own Robert Knepper sporting a decent accent) in the process.
Now even though it is pretty clear that Agent 47 scored a direct hit in his takedown of Belicoff he is sent off to get rid of a witness (the pre-requisite hot woman for a film like this, played very ably by Olga Kurylenko) who must be silenced before the job can be classified as complete and Agent 47 can get his money. Trouble is, the 'witness' does not recognize him but another hitman is on location to get rid of 47.
What is supposed to follow is a nail-biting, pulse-pounding game of hi-tech cat-and-mouse. What we get instead is a by-the-numbers thriller where the makers don't even seem to have taken the rudimentary steps necessary to ramp up the action scenes or use sound design to artificially heighten the mood. Make no mistake! Guns are fired, glass is shattered, cars are driven fast until their tyres screech at a high pitch. It also seems to have occurred to the filmmakers that audiences might be impressed by placing action in cramped spaces. They were wrong and it all falls sort of flat because of the lack of enthusiasm on the leading man's part.
Olyphant may be fit and limber but he doesn't sell either the action or the drama. This Hitman is no xXx (the Vin Diesel version) and he most definitely isn't Jason Bourne. He walks, talks and fights so stiffly one wonders whether he might not have benefited from a stiff drink before the cameras rolled.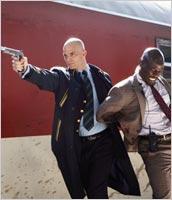 Also surprisingly, the best lines in the film are owned by the girl, a character who, seeing as she is a cheap Russian prostitute (her words, not mine) shouldn't actually have the verbal dexterity to turn English phrases the way she does.
The reason I have referred to the 'filmmakers' throughout this review instead of singling out director Xavier Gens as culpable for many of the faults in this movie is because it is impossible to watch Hitman and not get the sense that it was made by a committee. Which eventually makes it the type of film you've forgotten the moment you've left the theatre.
Watch this one if you're bored. Watch it if you want to see what an attractive Eastern European woman looks like while she is playing 'hot'. If you're looking for thrills, chills and spills however, this is not the place for you, young thrill-seeker; you would be better served by renting a Bourne flick or even a Michael Bay one on DVD.
Rediff Rating: